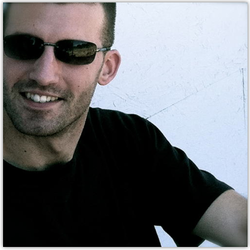 Contact Information:
Jon Valdivia
Life Coach, Performance Coach, Money and Finance Coach
CPC
I like to work with clients who have a lot on their plate and need to get results.
About Me
I have been coaching since I can remember. That is: listening to people, and asking questions until a new insight comes up.
I am a Certified Professional Coach, and I enjoy talking to people who want to take their lives to the next level, who look for a consultant with the heart of a friend to devise the proper strategy for them. I use my coaching tools as I team up with you to see results happening.
We know we can get unstuck and move forward. Feel free to contact me and talk about your goals and projects for your life!
Reviews
Have you worked with Jon? Tell your friends!
Jon is a fantastic coach. He is inspiring, dedicated and a very good listener.
His coaching helped me to focus on my plans and work more efficiently towards my goals.
I would highly recommend Jon's coaching sessions to everyone who wants to move forward in life and needs professional support.
I have Jon in great esteem as a coach. I started wanting to solve one problem, and I learnt that I had other challenges that were wearing me down to the point of depression. Thanks to these sessions I see things better, and I value things more. I have grown in strength and peace. I no longer beat myself up! This has definitely been a step forward in seeing things in a different way, to myself and those around me (thanks, Jon).
My coach was a really kind and helpful person, he knew exactly what I need to hear to pass over my personal obstacles. He was strict in a good way because he required from me to be consistent and this helped me because I pushed myself to work. From the other hand he was friendly too and compassionate and this helped me to find the energy and start from the beginning the project and realize it. I am always trying not to forget the coaching process and all the advises.I am sure that it will help me as I move forward
Jon is a fantastic coach. He is very professional, honest, trustworthy, caring, a great listener and never made me feel judged! I was really impressed with the way Jon coached me and am so lucky to had found such a brilliant coach! He has set me up with life long skills, and through the week after having a session with me, he makes me think about myself more deeply. Jon, you have made such a change in me, and you probably aren't aware at how great it is! Thank you so much for giving me the opportunity to be coached by you!?
Jon has a very relaxed, supportive, yet effective style of coaching. He created a space where I felt completely safe and comfortable to be honest and open about my life, fears, dreams, etc. He had an amazing ability to synthesize my words into clear, concise feedback that expressed exactly what I wanted to say or how I felt. I gained a tremendous amount of insight and awareness during our sessions and the tools that I acquired during our coaching relationship will last a lifetime. I would recommend Jon to anyone and I look forward to seeing his clients thrive! ?
Jon was very receptive, fun, and supportive in our time together. He has a very positive outlook on life and helped make me accountable for my life and how I wanted to "show up". Jon listened intently, and offered suggestions when he saw fit. He always asked me if I wanted feedback, which I gladly took. The feedback was also supported on what I said, and as well as how he heard it, he reiterated it back to me. Jon showed me ways to feel and to envision areas of my life. He kept things light and fun, yet at the same time we were getting down to business and he held me accountable for the action plans we created from week to week. We developed a great repertoire, had lots of laughs, and became friends.
I highly recommend Jon Validia as a life coach. I feel he did more for me than counselors I have gone to over the past few years. He not only listened yet he kept me moving in a direction I needed to move in and showed me new ways to look at things, at life, and mostly at myself. Jon has inspired me greatly and I am so appreciative for all of his hard work and time.
Jon Valdivia has helped me be more at peace with myself. Through thought-provoking questions and exercises, and have started to forgive myself, heal relationships, and communicate more openly. Working with him has been an incredibly empowering experience, and in the past six months I have made changes that I had previously struggled for years to achieve. Jon is dependable, patient and ever-supportive. He is committed to helping me achieve my goals while upholding my values, and throughout this process, he has expressed wisdom married with genuine empathy. I feel I have had immense support throughout our journey together, and I am deeply grateful for his coaching.