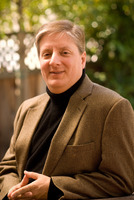 Contact Information:
650-630-1423
Visit Website
Kenneth Baker
Life Coach, Spirituality Coach, Health and Fitness Coach
Institute Of Professional Coaching Certified Coach
I coach people who want to transform their life. I act as a catalyst, looking at all aspects of your intellectual, emotional, spiritual and physical life and use these to help you achieve your dreams
About Me
Feeling overwhelmed? Not sure what you want to be when you "grow up"?
The possibilities are endless. What is the work that you want to do, that you are going to be passionate about, makes you want to get up every morning because you are looking forward to what the day is going to bring.
It's out there waiting for you. The Whole You personal coaching process will help you to pull apart the distractions and set goals that will take you ever closer to the passionate life waiting for you.
One goal at a time.
I got my first taste of coachiing when I stepped in to coach the novice fencers for the University of Iowa Fencing Club. Little did I know that it would eventually lead me to becoming a full time personal coach. Working with someone and seeing them have that Ah Ha! moment where they get that something that will allow them to get to the next level Is amazing every single time it happens.
As a graduate of The Fowler Wainright Institute, I look forward to helping you achieve those Ah Ha moments. Give me a call for a free consultation.
Reviews
Have you worked with Kenneth? Tell your friends!
When reflecting on the incredible transformation I have experienced in the short time Ken and I have been working together, I am filled with gratitude. Possibilities that I could not see before are suddenly crystal clear and within my reach. With Ken's help, I've identified hidden emotional road blocks that have had me stuck in the mud...until now.
Working through this process step-by-step with Ken's guidance, incredible patience, compassion, and genuine empathy creates within me a feeling of focus and clarity. I feel empowered to make great decisions in my personal life and business dealings as well.
Oh how I look forward to our meetings! Leaving my productivity sessions with Ken I am centered and confident. And isn't that a gift in these uncertain times?!
The Whole You approach works by identifying individual goals, dreams, and aspirations to define and track your personal successes and accomplishments.
By actively listening and asking poignant questions Ken has created a framework for growth from which my personal life has blossomed and my business is buzzing with new energy. The results are tremendous!
At a time when a major relationship in my life ended and I had to deal with the overwhelming stress of being an executive while raising 2 children as a single parent, Ken's perspective on my whole being enabled me to overcome my shortsightedness so that I could not only move past this loss, but thrive. Ken's coaching has quite literally, been life-changing.