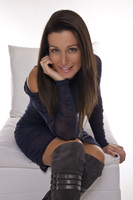 Contact Information:
917-861-4750
Visit Website
Laura Kronen
Life Coach, Entrepreneurship Coach, Relationship Coach
BS, Master Practitioner of NLP, Ericksonian Hypnosis and Transformational Life Coaching, Author, Speaker
My ideal client wants to find happiness and passion, improve self confidence & feel empowered. Do you want to overcome obstacles? Improve relationships? Find balance? Transform your life now.
About Me
Do you want to build confidence, improve your relationships, achieve health and fitness goals, start a business or overcome obstacles? Do you want to experience transformation? My ideal client wants to find true happiness, improve their self confidence, boost self-esteem and feel empowered.
I am a Life Coach, entrepreneur, writer and founder of BE YOU ONLY BETTER. Focusing on the concept of finding and nurturing your authentic self and locating your inner passions are the premises behind my life coaching and consulting business. Building confidence, setting goals and guiding clients are my passions.
I am not your typical Life Coach. I do not take on as many clients as possible, in fact, I carefully select my clients with the same weight they put forth in choosing me. I only take on clients that I am certain we will have a synergy to be able to successfully move forward together.

My background is not only in life coaching, but entrepreneurial ventures as well. In fact, I was recently featured as one of Inc Magazine's Top 10 Entrepreneurs of the Year, and in many other media outlets.
In addition to Transformational Life Coaching and Entrepreneurial Coaching, I also specialize in Relationship Coaching. Helping clients to improve their family bonds as well as helping those who want to meet and attract long-term friendships or partners. We focus on communication, body language, interpersonal skills, sociology and psychology.
I am certified at the master level in Transformational Coaching, NLP, and Hypnosis. I graduated summa cum laude with a BS in Marketing from the University of Rhode Island, am a member of Alpha Delta Pi, have 2 children, am a Type 1 diabetic, a competitive tennis player, runner and Pure Barre addict.
Please visit my website at Be You Only Better www.beyouonlybetter.com
Reviews
Have you worked with Laura? Tell your friends!
What I most liked about working with Laura is her ability to get me to focus and motivate me to achieve things that I had, in the past, only dreamed of. I learned so much about myself and what I ultimately wanted out of life. I have rebuilt my confidence and self-esteem. I am, without a doubt, a better person because of the coaching I have had with her. I actually feel like I can conquer the world (and I am!)
Laura Kronen helped me overcome my issues with Type 1 diabetes. I felt lost and alone and used to use my disease as a crutch and an excuse. Now I realize that having diabetes and facing the challenges that come my way every day actually makes me a STRONGER person. After just a few short months, I have a whole new outlook on the disease and myself! If you have diabetes, or need help overcoming any obstacles in your life, Laura is definitely the Life Coach you want.
I am embarking on a new chapter in my life and I am so excited! I have Laura to thank for that. Instead of a mid-life unravelling, I feel like a door has been opened to the most fulfilling part of my life. - and I can't wait! I finally feel like I know who I am and what I want. And, now I have the tools in place to get exactly that.
Laura has a natural gift for life coaching. She's patient, understanding and a great listener; however, she also makes sure that you walk away from each call with specific tasks and objectives that require work on the client's part. I would absolutely recommend her to anyone who is interested in improving or enhancing some part of their personal and/or professional lives.
"Without a doubt, Laura Kronen is the best life coach in Atlanta! I can say this because I think I interviewed all of them! She is truly gifted. From our very first call, I knew that she was the one that was going to make a difference in my life. Laura helped me break free of the chains that were holding me back. She was there for me more than just once a week, i continually felt her support. I am finally comfortable with myself and confident with my life direction. I can't thank her enough."
Laura has been an amazing life coach helping me identify a lot of things that I felt I was missing and yet could not put a finger on.
She helps see things from a different perspective, focus on things I had ignored or just not paid attention to, but are essential for me to be happy.
She helps define goals to work towards and targets to achieve. She constantly monitors the progress and advises when necessary.
I believe the life coaching lessons from Laura are helping me address parts of my behavior that will help shape me into a happier person.
What started off as a process to start a new venture has now helped me learn more about myself and what makes me happy.
Thank you very much Laura.