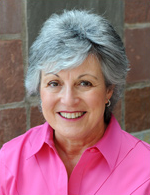 Contact Information:
303-808-5273
Visit Website
Linda Bachrach
Career Coach, Retirement Coach, Life Coach
MEd, Certified Hudson Institute Coach
My ideal client is someone who is ready to transition into his or her next stage of life. It may be someone who is ready to change jobs, someone who would like to re-enter the job market, or someone who is getting ready to retire and is looking forward to
About Me
I had the good fortune to earn my coaching credential through the Hudson Institute of Santa Barbara in 2009. This is my Third Launch. Prior to becoming a coach, I was a special educator, a fundraiser at universities, and I started my own consulting practice providing strategic planning and fundraising expertise to non-profits around the United States.
I believe that often people know what changes they need to make but need help in executing these changes. I work with my clients to make them feel comfortable with the changes they seek to make and then we develop a strategic plan to fulfill these plans.
I have done a lot of work with people who are interested in changing jobs and people who are interested in re-entering the workforce. Several of my clients have started their own businesses.
I enjoy celebrating my clients' successes. We are a team and I will do everything I can to help a client succeed as long as they do their part.
I encourage you to visit my website, www.myprimetimecoach.com.
Reviews
Have you worked with Linda? Tell your friends!
In th world we live in today - sometimes we need some flexibility as we persue our passions. Linda was so helpful in helping me to embrace all the different ways I can enjoy my life, my career, my friends - especially during these tough times.