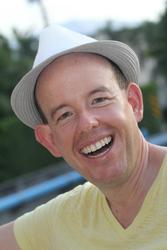 Matthew Hoelscher Miami, Florida
Relationship Coach, Family Coach, Life Coach
Creator of EC3
I coach couples with young children who marriages are suffering from stress due to lack of communication, intimacy and trust. I also specialize in intimacy after an affair.
About Me
My coaching is for couples with young children who marriages are suffering from stress due to lack of communication, intimacy and trust. I also specialize in intimacy after an affair.
If you want:
* Communication, not arguing
* Intimacy and passion, not cheating, lying, and withholding
* Rebuilding trust by defining the future, no longer worrying about all the little day-to-day details of life
One of the leading voices in helping couples define marriage - beyond boredom, beyond love, towards meaningful purpose - Matthew Hoelscher is a marriage, intimacy and relationship coach who helps couples find self-mastery by making marriage a living practice instead of just a legal agreement.
Matthew experienced something similar to what your are feeling right now. He was married for 7 years; had a year-old twin boys, and he argued all the time with his wife. There was no passion, no intimacy, and they no longer understood each other.
They went to the best therapists in Miami. They both clearly stated at the beginning of our session, that divorce was not an option.
They a solution!
They rehashed all our problems, told all their stories, explained their childhoods and left in no better shape than when they started.
Then they discovered that if they focused on maintaining a good emotional connection, they no longer created arguments to get each other's attention.
Matthew brings together progressive ideas, personal experience, loving unconditional acceptance, and accredited coaching to help couples create marriages of trust, love and growth for both parents to be passed on to their children.
Reviews
Matthew has 47 reviews.
My husband and I needed help with a few issues in our marriage, we have never been to counseling, therapy or coaching and I didn't know what to expect. Matthew made me feel so relax and with only one session I was able to get everything that I was holding back out of my system, he helped me translate to words what I was feeling and didn't know how to express to my spouse. Im very grateful to Matthew and highly recommend him.

Diana K, Kendall, Fl
I found Matthew online. Read his great reviews. Called him and spoke with him......right away I knew we needed to see him as soon as possible. Our meeting opened my eyes to many things I was not aware of. Mathew coaches you to bring the better husband in you. I recommend couples with or without issues to visit him.....he will help you and your spouse to another level.

Eric Kam, Miami Fl
Matt is an incredible business coach who truly masters the balance between offering direction and inspiration and simultaneously pushing his clients to "do their homework". He will boost your confidence and guide you and your business to greater heights! Thanks, Coach Matt, for all you do!

Sarah Reimer
I have known Matt from Miami Executive Coach since I started my company. He was an energetic and informative guest speaker who took the time to answer all and any questions from the audience. He has a great personality and lots of resources!

I was also able to benefit from great coaching in our conversations before and after my monthly networking events.

Nalene R., Insense Miami
As a first-time small-business owner, I was a bit daunted by the ins and outs of how to foster and sustain growth while maintaining my sanity at the same time. Matt at Executive Business Coach came to the rescue with guidance that was alternately inspiring and practical. I highly recommend his coaching services - no matter where you are on your career path, you WILL learn something good to apply to your personal and professional life.

Anastasia, Y, Healing Hands, Miami FL
"In just a one hour session with Matthew, he inspired and guided me to new and creative ways to look within for 'my answers' and really helped me feel empowered to create my true path: my true calling in life. He has a way of 'helping and guiding' you without telling you what you 'need' to do or not to do. In less than a year after my consult with Matthew, I found many of my intentions already manifesting. I find many of his 'words' still inspire and empower me. Matthew, thank you so much for your guidance, support, and genuine care, even after we spoke."

Shelly Prosko Physiotherapist, Yoga Therapist British Columbia, Canada
I have been coaching with Matt for a while.
First he guided me regarding a new start after a painful divorce from my husband of 30 years. He helped me find new ways in which to go on with my life, all aspects of it.
Lately he has been helping me in finding a way to start a new relationship and how to get there.
He has always been there when I needed, his take on things always sheds a different light on whatever it is I have a dilemma or a problem with.
I really appreciate him and his knowledge, and I highly recommend him as a coach,no matter in what area you might need guidance.
It has been a lesson in life to coach with Matt and I thank him deeply

Gladys R., Miami FL
"I met Matthew through a mutual friend when I was attending Toastmasters many years ago. I decided to take up Executive Coaching for my dating life as well as personal self-development. I took an emotional-intelligence screening promptly and from there we would pin-point the areas of my life that would need work and improvement. Matt has a very unique approach in that in our sessions he would help me realize on my own, what my shortcomings were and what the appropriate course of action to fix them.

Since my short time working with Matt I've seen major improvements in my dating life, core-confidence, emotional self awareness, and have had great results with my experience with women. The lessons I've learned have changed my perspective on many things. I've learned that sometimes there are roadblocks in our lives that we want to overcome but can't by ourselves; obstacles have kept us stuck in a rut for a long time. For this I highly suggest finding a coach/mentor that can talk you through some of your issues and give you guidance. It's only when we hear things from someone on the outside looking in can we get great insight and grow past our plateau.

I highly recommend his services. Matt is a great listener and always goes above and beyond for his clients. He is very flexible and laid back but will keep you accountable.
I've not only learned many valuable skills, but I've also made a lifelong friend.

Thank you Matt!
Regards,
Kevin

Kevin G, Software Programer, Miami, FL
"A friend referred me to Matthew. He was able to break me out of my shell to make my marriage more successful. He took the time to get to know my husband and me and made us feel very comfortable speaking with him about very personal things over Skype. We left each session feeling relieved. He gave us an action plan to help us get back on track. Since then, we are stronger then ever. We couldn't have done it without him. I wouldn't hesitate to go back to him."

Dana B.
"Matt was very easy to talk to and my husband and I both felt very comfortable. We are looking forward to our next session with Matt."

Janill M.
"My husband and I went to our first session with Matthew fully loaded (emotionally and mentally). We have been depleted physically and emotionally because of issues with in laws, business and kids. We turned against each other and every argument ended with curse words and tears. Our home wasn't home anymore and only the girls gave us reasons to smile. We needed help because it was beyond us. Matthew helped us face our reality. We needed to be happy individually before we find happiness within our marriage. This is what we are working on currently before we can tackle any other issues. We both left the session with red eyes and tear stained faces but smiling. I felt so much lighter, as if the weight of the world has been lifted from my shoulders. We were both surprised at how effective the first session was. We were scheduled for two hours but were not rushed through it at all, we stayed for three hours! We are continuing our sessions with Matthew so that we can work through compromises and find resolutions concerning the in laws and the kids. I wholeheartedly recommend Matthew for anyone that is seeking help and has even just a teeny bit of hope. He's out there!!"

Tam V. Weston, Florida
"Matt was great.
He helped put a lot of things into perspective.
He gave real and honest feedback and follows thru on all he promises.

I will happily recommend him to anyone going thru some relationship struggles.

He can help bump people back on track when they need it .

Happy to have worked with you!"

Chris W. Brickell Key, Miami, FL
"Very insightful. Talking with Matt will give you new perspectives on how to look at things and how to understand things in relationships."

Michael F., Kendall, FL
"Married 6 yrs. Our relationship disconnected and distant and boggled down by constant arguing. needed a change and it needed to be soon. Decided on marriage counseling and found Matthew online. He helped us sort out our feelings and emotions, got straight to the point in helping us identify what we wanted to change about our relationship and how we express our love towards each other and what we each needed to do to maintain the connection."

Angela L. Miami, Fl
"We saw Matthew for marriage counseling and he did help open the communication. We look forward our future sessions."

Nilsa S. Miami, FL
"Was very satisfied"

Jennifer B, Fountain Blue, Fl
"My experience with Matthew was actually refreshing, still a work in progress, but he helped me see things in a different perspective, things that are already helping me on a daily basis, it was a very good experience. Thank you!!!"

Santiago L. Coral Gables, FL
"I am thankful he spoke with me on the phone. His approach is refreshing . I'm not looking for a savior. Im looking for support. Guidance....and a push in the direction I want my life to go. I'll give more feedback after a session. Peace. 😉"

Susan G. Kendall, FL
"We had a fantastic experience with Matthew! His style of coaching was exactly what we needed. Scheduling with him was extremely convenience since he is flexible with his time. He does not rush you through a sessions and truly takes the time to get to the root of the conversation. Highly recommend!"

Kristi M. Miami, Fl
"Awesome! My husband had shut down emotionally and was very unhappy with our marriage. Matthew was very knowledgeable. He was able to explain what was happening, help us understand and offer tips. My husband said he went in with a closed mind and came out with an open mind after our meeting. Not to shabby for someone who had shut down prior!! I will definitely use Matthew for any other bumps in the road in the future!"

Alissa F. Kendall, FL
"Matthew has helped us find the love that was lost in our 30 yr marriage! Thank you!"

Lourdes M. Miami, FL
"Words can't express how thankful I am for the service and support provided by Matt this past month. My husband and I have been on the brink of divorce for the past two months. Matt has quickly helped us get to the root of our relationship problems. Our future is uncertain but Matt has not given up on us. He spends a tremendous amount of time and energy in couple and individual coaching. Matt is one of the best decision I have ever made."

Maria F. Kendall, FL
"Matt was willing to come to us to meet with us and was very communicative during the initial process of meeting. We found his views to be refreshing and we appreciated his feedback.

He was very attentive and listened to our issues during the session and had many supportive and enlightening comments that have helped my husband and I to move a step closer to better understanding of each other's needs."

Charissa A, Miami, FL
"Like most people, life takes us on different journeys. In my life, I thought I had it all figured out.....until I didn't. I was in a happy long term marriage (or so I thought), the two of us growing our little family, and working hard in our professional careers. Then one day, I awoke to realize, that the life I thought I was living was gone. I struggled to put the pieces together - worked on improving my communication with my husband (after an affair on his part) and failed. My life was falling apart and so was I. It was then that I began researching Life Coaching and came across Matt. I remember feeling very comfortable with him, but I was somewhat apprehensive that this process would be able to help me figure things out. We began our sessions and slowly with his gentle coaching, I began to be able to step back and work through issues I hadn't been successful at alone. I just didn't have the right tools in my toolkit - or rather, I didn't know how to access them correctly.
Matt was able to guide me to see things in a much clearer light, to identify what I really wanted & needed and how to express it. Not just saying this is what I want, but doing so from a compassionate place and in a loving a true manner to myself.
All these changes didn't happen overnight, but fairly quickly into the life coaching sessions, I felt more confident, my communications skills began improving and I began the work of putting my life back together - on my terms.
Matt was the catalyst that guided me to finding my way.
If you are in a position, personal or professional, where you feel stuck, lost, confused, I would highly recommend a life coach, specifically Matt.
Thanks Matt! There are no words to express the gratitude I feel for what you have helped me accomplish."

Marti B. Kendall, FL
"Coaching with Matt helped me separate my my fears from my needs. He helped me learn to communicate what my needs were to build deeper intimacy in my relationships with guys."

Mary B, South Beach, FL
"Having a coach like Matt has been a wonderful growing experience. Not only he has presented me with techniques to deal with my everyday life, but also these tools have helped me managed in the most difficult events of my life such a Cancer. The approach of giving you options and presenting you with challenges and opening my eyes to new opportunities in life has been a interesting and needed experience. Through his guidance and friendly approach, now I feel stronger and capable of pursuing dreams that I never knew I could achieve. Thanks for all your insight! I'm truly blessed to have you in my life."

Myrelie C., Kendall, FL
"Matt is very good at what he does. He's very knowledgeable at his craft and he's very well read on the subject that he "specializes" in. I love books and so does he! He's always wanting to grow and learn more about what he's passionate about. He helped me get clarity around a number of issues I was having in my relationships and I'm very thankful for his work in the world."

Paul S, Coral Gables, FL
"Having a life coach is such a productive experience. While a therapist helps in many ways to figure out your fears Matt helps you face the fear and conquer it. Its more like a friendship than therapy. Matt inspired me to be a better version of myself. His words of insightful wisdom from his own life experiences makes you feel like you are not alone in your own in whatever you are facing whether its marriage, career, or parenting issues. Matt is funny and wise and makes you feel comfortable opening up."

Eni N. Cutler Bay, FL
"Matt saved my relationship when our mismatched desires were out of sync. Sessions were easy and Matt did not let us play the blame game. Contact him to save your love."

Maureen C. Kendall, FL
"I met Matthew through a mutual friend when I was attending Toastmasters many years ago. I decided to take up Executive Coaching for my dating life as well as personal self-development. I took an emotional-intelligence screening promptly and from there we would pin-point the areas of my life that would need work and improvement. Matt has a very unique approach in that in our sessions he would help me realize on my own, what my shortcomings were and what the appropriate course of action to fix them.

Since my short time working with Matt I've seen major improvements in my dating life, core-confidence, emotional self awareness, and have had great results with my experience with women. The lessons I've learned have changed my perspective on many things. I've learned that sometimes there are roadblocks in our lives that we want to overcome but can't by ourselves; obstacles have kept us stuck in a rut for a long time. For this I highly suggest finding a coach/mentor that can talk you through some of your issues and give you guidance. It's only when we hear things from someone on the outside looking in can we get great insight and grow past our plateau.

I highly recommend his services. Matt is a great listener and always goes above and beyond for his clients. He is very flexible and laid back but will keep you accountable.
I've not only learned many valuable skills, but I've also made a lifelong friend.

Thank you Matt!

Kevin G. Hollywood, FL
"Matthew coaches me on an ongoing basis. He does a very good job of getting to know you as a person so that he can help you in your life and business. He helps you to get past your fears and also helps you to see why overcoming them can lead to being successful."

Natalie H. Hollywood, FL
"Matthew was a huge boost. I've been trying to get a promotion for some time. Matthew not only helped me get really motivated, but he helped me see some areas I'd been getting in my own way. He was able to help me with some fundamental areas of my life including my relationship."

Skip E. Homestead, FL
I've always had resistance to be coached by men coaches/trainers as I couldn't trust that they can really feel me, and many times I felt I have to perform changes to please them. Secretly I wanted to be held by a man so I can fully come out and transform.

Coaching with Matthew is not only joyful but also edgy experience. He follows intuition fiercely and with lots of courage. He saw those most vulnerable places in me I usually hide quite well, pushed me through the edge and stayed with me with compassion love and acceptance. I felt held and came out.

After coaching with Matthew I feel free and confident in myself. My relationship with men changed. I feel trusting and at ease relating to them. And they must feel it as I receive more and more their love and support.

Having better relationships my whole work life went to the next level.

I am making more money than ever before.

If you are ready for radical changes in your life I highly recommend Matthew as he is able to navigate feminine and draw desires out.

Justyna Kucharska, London England
Like every marriage my wife and I face challenges on a daily basis. We have tried marriage counselors on several different occasions with limited success. Each place that we went to provided a "safe place" for us to air out our issues with the counselor as a mediator in our discussion, but both my wife and I agreed that it never really got us on a productive path towards improving our marriage. This paradigm was flipped on its head with Matt and the method he employs. Each session was not about my wife and I going back and forth in what seemed like an endless bickering match on the same issue, but rather he challenged us to delve into how we talk to each other, how we listen to each other, how we touch one another, and what we can do for each other in addressing our REAL CORE NEEDS. The atmosphere Matt allows is relaxed and open. Whether it is breaking down barriers to express love through physical touch or understanding how to communicate love in words and deeds, Matt helped both of us understand each other on a higher and better level. Our marriage is without a doubt on a new level because of the help Matthew gave us. We plan to go back for more sessions to continue to learn and grow closer to one another. If you are in a rough spot with your spouse, if you have tried marriage counseling and you constantly walk away with unresolved feelings and issues, if you want to understand and love your wife/spouse more than you have before, I HIGHLY RECOMMEND Matthew.

Andy K., Miami FL
I was not optimistic about seeing a marriage councilor. However, from my first session with Matt I found myself wanting to come back. Matt makes you feel as though you are home and his office is a safe zone to feel say and act how ever you'd like or need to without being judged or frowned upon. I recommend him to everyone and anyone who needs help finding answers rather it be within your marriage or life as a whole.

Karla R. Miami, FL
Divorcee to Princess, Thanks Matt!

Your request for a testimonial is hard for me because I can't put into words how you were helpful. It was an emotional support kind of thing. You gave me the confidence that I was worth more than I was getting from life. oh, and I remember how you encouraged me to make a to-do list for my job hunt. That gave me more focus and provided me with a plan and a sense of accomplishment.

You helped me tremendously with my resume!! You helped me put ME back in my resume and take out my ex-husband. You also helped me think outside of the box on my resume and it is what put my resume ahead of the other applicants and it got me my dream job, which has now landed me my dream man lol I actually met my prince charming the 3rd day I arrived to Abu Dhabi. He is the love of my life and get this...are you ready?...

he really IS A PRINCE!!! A Jordanian Prince!!!!!! AAAHHHH!!!!!!!!! We are totally in love with each other and plan to spend the rest of our lives together. He owns a home here in Abu Dhabi, Jordan, Kuwait, California and Ottawa. His home in Ottawa is only 50 minutes from my parents house in NY!!!!!!!!!! How crazy is that?! I think we will live between Jordan and Canada. If we settle in the states, we will be close to my parents in NY or in FL,...

I don't know...there are so many options! I just can't wait for my future now. I have never been more happy to be alive in all my life. I finally see the road ahead of me and I am MORE than THRILLED to where the road is taking me! I was totally sent to the middle east for a purpose and I can't believe how quickly I found it! Isn't the universe AMAZING?!?!?!

I am so happy.

Laurel, Sarasota Fl
Matt is Amazing!

Matt, I think you have helped me realize my value not only in my professional life but personal as well. I am learning to strengthen myself. Not because I was weak but because I was lacking self confidence.

Your assurance is giving me the power to live the life I always wanted but didn't do it. :)

Veronica, Miami Beach, FL
I found my SOURCE!

Your authenticity... how open and honest you are, that evokes in me and everyone you work with, the ability to open to themselves, and in doing so... people are able to tap into their SOURCE... that light within... you make people feel comfortable.. you are a great listener, and so trusting... your greatest gift I feel is that you embody and radiant health, authenticity, you are a great example of what we strive to be more of...

LOVE YOU!

-Michelle Alva, Miami, FL Founder michellealva.com
Matt helped me Organize my Possibilities!

I connected with Matthew through Michelle Alva regarding my organic, vegan makeup website. When I put the site up a year ago I had high hopes for what I could do.

A year later, I was no where close to where I thought I would be, overwhelmed with decisions about what to do next and not much to show for my investment. After just a few sessions with Matthew we came up with the top 5 things I could do to get back on track.

My biggest dream of having a retail space in addition to my website was the long term goal I set.

A week later, while going for ice cream with my daughter, I found the perfect location and I'm finalizing the lease arrangements.

-Marcie Lakin, Coral Gables, FL Founder peacelovemakeup.com
Ever since I started these "Business Coaching" sessions I have noticed that I my work priorities are clearer. I have learned some time management strategies and prioritization so that I can achieve an equilibrium between my personal life and my work life.

I definitely recommend that you use this time to modify behaviors that interfere with reaching your goals. The fact that you know that someone is waiting to listen makes you achieve the goals that you set out in the prior session. I also would like to add that Matthew, my coach, has made great efforts to understand my basic English.

He has demonstrated utmost respect and attention in order to understand the meaning of my sentences. Thank you, Matthew, for giving me your time and assistance in something so important to me!

Desde que inicie estas sesiones de "Consejería en Negocios" he notado que tengo más claridad en mis prioridades laborales; he aprendido algunas estrategias para organizar mis tiempos y determinar mis jerarquías, tratando de encontrar un equilibrio personal y laboral. Definitivamente recomiendo ampliamente que utilicen este tiempo para modificar conductas que puedan estar interfiriendo en que no logren sus objetivos. El simple hecho de saber que alguien te espera para ser escuchado hace que concretices los acuerdos a los que llegaste en tu última sesión. Quisiera agregar que mi consejero Matthew en todo momento se ha esforzado en entender mi inglés básico demostrando respeto y toda su atención para comprender el significado de mis oraciones. ¡Gracias Matthew por darme tu tiempo y apoyo en algo que es tan importante para mí!

-Erika Monroy, Doral Fl, Founder Akin Body Painting
Stuck to Energized!

For me, the biggest benefit of getting coaching from Matt is finally getting unstuck. It's wonderful to be doing instead of wishing that I were doing. I feel a new-found sense of pride, accomplishment, energy, peace, and happiness.

How does he do for me what others haven't? He really listens. I can tell because he makes insightful observations, compassionately and humorously paraphrases what I say, and asks questions that make me think about whether I've been sabotaging myself with false beliefs and unfounded fears. Without making me feel pressured or worse when I'm already depressed or overwhelmed, he patiently helps me establish, sequence, and commit to working on my priorities, milestones, and action items.

Best of all, I made progress right away. My life is better because of the work I do with Matt. If I were to pick buzz words that would resonate with me about you as a a life coach, these would be them with the red ones being what I perceive as your differentiators: - Really listens - Insightful - Compassionate - Humorous - Quick results - Unstuck - Feel better - Priorities

-Judy, Boca Raton, FL
Matt has a keen ability to hone in on exactly what is needed to move someone from the place where they are experiencing a LACK of joy and happiness in life to a place where there is so much MORE!

His approach is gentle, yet firm and exactly what's needed.

-Mande White, Boca Raton, Fl, Founder MandeWhite.com
As a first-time small-business owner, I was a bit daunted by the ins and outs of how to foster and sustain growth while maintaining my sanity at the same time. Matt at Executive Business Coach came to the rescue with guidance that was alternately inspiring and practical. I highly recommend his coaching services - no matter where you are on your career path, you WILL learn something good to apply to your personal and professional life.

Anastasia Yacke, Miami FL, Healing Hands Massage
"In just a one hour session with Matthew, he inspired and guided me to new and creative ways to look within for 'my answers' and really helped me feel empowered to create my true path: my true calling in life.

He has a way of 'helping and guiding' you without telling you what you 'need' to do or not to do. In less than a year after my consult with Matthew, I found many of my intentions already manifesting.

I find many of his 'words' still inspire and empower me. Matthew, thank you so much for your guidance, support, and genuine care, even after we spoke."

Shelly Prosko, Physiotherapist, Yoga Therapist British Columbia, Canada
Executive Coach?? HOLD UP.

Let me start off by saying that Matthew NEVER told me what to do... no, he helped me find the strength I already had and shifted it to an area I needed help in.

I hired Matthew as a Speech Coach when I first started speaking with 000 experience. A young 22 year old, with a filthy tongue, pointless stories, and I spoke so loud it would hurt your ears. I couldn't come up with a story to save my life. Within 3 months I was award the Impromptu Public Speaking Champion Award for the city of Doral and some cities in South Fl. under Toastmasters International.

Matthew has continued to be my coach and has recently help me with recovering from a horrible relationship that ended up with us going our own way. It's really hard to get used to having something and then have to start all over, building your emotions and trust from the ground up. Matthew showed me a different way to look at it and helped me realize a lot of things about myself I never knew.

Matthew is an excellent coach with expert knowledge on relationships and rebuilding after divorce. I don't see Matthew and I stopping our coaching relationship any time soon.

Eduardo Lopez, Miami FL, Psychologist
"Thank you so much for sharing your time today with me. You made me realize where I am blocking myself and how that it's showing up in my work. I am censoring myself and my work.

You also gave me confirmation, maybe not intentionally, but I do hear how the universe speaks to me through others, about the relationship conversation.

Thank you. Thank you thank you thank you!!! So happy we connected.

Namaste

Barbara Alfonzo, West Palm Beach FL, Founder: healthysexygreen.com
My husband and I were at a loss with each. Not divorce status but we couldn't seem to get along and after a baby and the passing of my father we were completely disconnected. Matthew helped us find each other again in just one session. Looking forward to the next two sessions! Very affordable for an amazing experience! Highly recommended!

Ashley D. Miami, FL