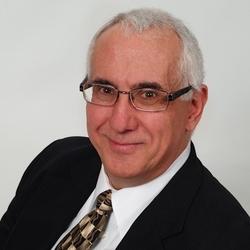 Michael Beck Portland, Oregon
Executive Coach, Leadership Coach, Business Coach
Wharton School of Business: MBA (Finance), University of Pennsylvania: BS, MS (Engineering), Coachville Graduate School of Coaching
I work with executives from mid-sized companies, from Senior Manager through C-Level. I help leaders bring out the best in people and improve their strategic thinking.
About Me
Success for an executive depends on two things – bringing out the best in people and making good decisions. But that can be challenging, because we all have blind spots. It doesn't matter how bright we are, how educated we are, or how experienced we are. We all have them.
I am passionate about helping companies and their leaders bring out the best in others, and I utilize executive coaching to improve their effectiveness, broaden their strategic thinking, and maintain their focus on execution.
Based on my 35+ years of domestic and international experience, I have developed an approach to executive coaching and strategy development which allows me to identify core issues faster and develop effective solutions more quickly. Whether working with leaders to enhance their effectiveness or working with them to develop great strategies, my distinct way of thinking allows me to see patterns where others simply see complexity.
I've coached clients domestically and internationally from diverse industries including manufacturing, professional services, technology, healthcare, financial services, and not-for-profit. I have degrees in engineering from the University of Pennsylvania and an MBA in corporate finance from the Wharton School of Business. Over 35+ years as a professional, I've held executive positions as CEO, COO, CFO, and VP of Business Development. In addition, I was a Business Advisor to a member of the Royal Family in Saudi Arabia for several years.
Pick up the phone and call. (I work with clients worldwide.) It's the best way to decide whether working with me can make a difference in your success. Call now while it's on your mind...
Reviews
Michael has 11 reviews.
"Michael is the perfect experienced and high professional caliber executive coach that can help you at any time and for any type of business challenge.

After talking to Michael for few minutes he is already able to provide you with the big picture, several different angles to view the subjects and different approaches to solve issues or implement actions.

Michael is always positive and helps to recover motivation and new ideas even when you feel overloaded and weak."

Felice Caccavale, Vice President Sales & Marketing – EMEA Vicor Corporation
"I have had the pleasure of working with Michael Beck over the last year, and throughout our conversations, I have found his advice and input to be invaluable. Michael has a unique ability to ask insightful, probing questions that get to the heart of the matter we are discussing.

Michael has a vast range of business experience which is of incredible benefit as we discuss business development and marketing strategies, financial scenarios, and interpersonal situations. Michael's direct and pragmatic feedback has greatly helped me better understand my strengths and weaknesses which has transformed my thinking, and most importantly, my actions.

Michael Beck gets my highest recommendation as an executive coach and mentor."

Michael Lindley, Vice President Business Development and Marketing Concept Systems, Inc.
"Michael's insights, experience, and direction….exactly what is needed. Having someone in your corner for true coaching is invaluable, and Michael has proved to be all that I expected.

Whether it be for focus areas, general growth, specific circumstances that come up in the day-to-day, or just a sounding board, Michael continually shows why he is a highly respected and sought after coach. He approaches with honesty, provides perspective, and asks questions. He allows you to think through scenarios & come to conclusions, and then discusses them with you. He never assumes, helps you understand where you stand on a matter, and then helps you change perspective.

I value our relationship tremendously, and am looking to the future with Michael in my corner."

Jerry Adamowicz, Vice President of Global Services Star Trac
"As a new general manager to a growing business here in Portland, Michael's coaching and guidance have been invaluable. He has helped me transition from simply managing to leading with confidence and vision.

Michael also has an uncanny ability to provide clarity and perspective to issues that face the business. His broad-based knowledge, as well as his focused and straight-forward approach, have been instrumental in developing sound strategies for growth. There have been occasions where just picking up the phone and talking through situations have been highly beneficial.

His input has always paid great dividends, both professionally and personally… I would recommend Michael without hesitation."

Larry Sinnige, General Manager Walker Emulsions
"Michael has been an advisor, consultant and confidant for the last two years. In my role as president of a $400 million company he has provided both strategic and leadership guidance.

Throughout our time together, Michael has demonstrated an impressively broad strategic skill set. His unique perspective and ability to ask penetrating questions has driven measurable improvement in areas as wide ranging as company strategy, business operations, leadership development, management reporting, and employee relations.

I have become a better leader and our company has become more successful due to Michael's influence."

Jamie Madden, Executive Chairman at SOS Employment Group
"Our company, HPM Corporation (HPMC) retained Michael to prepare our Executive Management Team and proposed "Key Personnel" for an "Orals" interview and presentation to a U.S. Department of Energy (DOE) Source Evaluation Board (SEB). The SEB would assess the caliber, knowledge, understanding, and synergy of our proposed management team as a significant element in the overall evaluation of our proposal, written in response to a DOE Request for Proposal.

Michael had two days to work with our four proposed Executives, some of whom had not met prior to this effort. He diligently worked with HPMC's President to ascertain key technical focus areas, as well as identify an optimal approach to the orals preparation.

During the two days, Michael quickly assessed the strengths and weaknesses of each of our executive team members and worked collectively and individually to form these individuals into a cohesive management team. At the end of the two days our team was prepared, rehearsed, and confident in their ability to address whatever questions the SEB might pose.

We cannot overstate the positive impact Michael had upon our successful SEB evaluation and subsequent contract award. Michael has our highest recommendation to work with any size business looking to develop and/or enhance Executive Management Skills."

Hollie Mooers, Owner, HPM Corporation
"I researched the industry to identify an executive coach with a perspective of improvement, not repairing. I found my coach and he is the real deal. In each executive coaching session we seem to raise the bar and accomplish more than expected. It is no surprise that you are a leader in the Executive Coaching arena. Thank you for assisting me in my quest to fulfill my purpose, see my vision and work my mission."

Rick Katz, Chief Marketing Officer First Life America
"Michael's insights and strategies helped me go from an idea to a full-time income in less than a year. He helped me refine my business model, streamline my workflow, and create effective marketing strategies. Without his help, I'd still be waiting for the phone to ring..."

Kathryn Pundt, Owner at Kathryn Pundt Patent Drawing Services
"Michael Beck is a business strategist and productivity expert, and works tirelessly to develop and refine strategies that can be implemented predictably. I always learn something new from him in our conversations."

Duncan MacPherson, Co-CEO at Pareto Systems & Pareto Platform CRM for Financial Advisors
"Michael Beck and I have been business associates and friends for close to 14 years now. I have used Michael for personal professional coaching, advice and direction with my team.

Motivating your team is an ongoing goal of mine and to keep them focused on task, Michael has put together specific seminars for my team and offered each team member personal coaching through the seminar tasks, with strong results for both our business and the individual managers.

Michael is a friend and someone I turn to for advice with the day to day business world we conduct ourselves in. I recommend you visit his web site and seek out his ability to assist you within reaching your goals."

Larry MacDonald, General Manager at Providence Hospitality Partners
"Michael is a gifted executive and business coach with the ability to guide and inspire his clients to new levels of achievement. He is an exceptional leader, extraordinarily knowledgeable, industrious, hard-working and quite personable. I recommend him highly."

Laura Belsten, Ph.D., Executive Director, Institute for Social + Emotional Intelligence™ | Executive / Leadership Coach, CEO Partnership