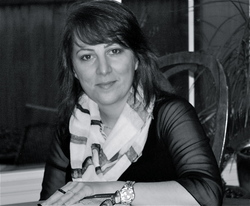 Nazee Mirshamsi Chilliwack, British Columbia
Career Coach, Relationship Coach, Spirituality Coach
Certified Professionl Coactive Coach, Graduated of Jack Canfield's Train The Trainer program, Certified Personal Trainer
I coach those who feel lost in their direction of life or not fulfilled and happy in their career! I am expert in coaching those who want to live a more meaningful and joyful life confidently
Details

Chilliwack, British Columbia V2R 0G2
604-791-9452
Send Message
Visit Website
Hourly Rate: $125 to $150 Canadian Dollars
Gender: Female
About Me
I am an expert coach who is passionate about coaching and mentoring people who want to change the direction in their career and job, who are stuck in their relationship as well as those who feel lost and want more meaning in life. My expertise is empowering my clients to discover their life purpose, build their strengths up while making new habits based on success principles that will lead them to set new goals and achieve them successfully.
Do you feel if your job is not satisfying you? Do feel lonely? Not being loved enough? Not being acknowledged enough? Not being respected enough? Not even knowing why you do what you do? Do you think that deep down of you there is something that needs your attention and care to make that life changing decision?
As your coach I will empower you to find your true passion and calling in life and feel enough! I will encourage you, & nourish you with new sets of skills, to live your life more joyfully and fulfilled.
I am confident in the work we could do together for You. I believe that You are amazing just the way You are. With provoking questions and inspirational conversation we will empower You fly freely beyond your limiting beliefs. When you find your higher purpose in life, and the skills to align everything else with that purpose, then you will experience true joy no matter what life brings to you. You deserve a happy, healthy, and balanced life.
I am master in self understanding and self esteem. The story of my own transformation from a very shy girl to a lover of all, a stay at home mom, becoming an entrepreneur holistic Certified Professional Co-Active Coach, Leadership & success principles Trainer, Inspirational speaker, featured Speaker at TEDx Chennai, and contributed as a co-author in "Adventures in Manifesting; Love and Oneness," has been inspiring and transforming thousands of lives internationally. Are you ready now?
Contact me and book your complimentary "If we match" session :)
Live your life to the MAX
Reviews
Nazee has 6 reviews.
Nazee, helped me to bring brilliant ideas out of myself and most importantly she followed up with me and reminded the promises that I made at the end of each session!
Since coaching with Nazee my relationship to my husband, my kids and myself are getting better and better. I don't blame my innocent kids for just being kids! I found out how much I was unfair to myself and how much I miss my inner child. Looking back, I am noticing how much loving myself has transformed all other aspects in my life. It changed my love-hate relationship with my 10 years old daughter to an unconditional love, not judging and not blaming for whatever she is, just ACCEPTANCE!
With Nazee's strong coaching ability, wonderful techniques and amazing relationship during the coaching sessions, I found different ways to deal with my daily issues, respect myself as much as I respect others, and deeply be proud of myself for the first time in my life!

M.N, LA, United States
I had the pleasure of participating in a few life coaching sessions with Nazee during the past few months. I just want to say she is an amazing coach and a very good listener. She guided me through confronting certain issues in my life that I have been struggling with. I felt very comfortable opening up to her and talking to her about my private thoughts. So I want to thank her for being there for me and coaching me through tough times.

M .M USA, NY
Nazee is full of energy and she is such purity. Her guidance empowered me to accept myself just the way I am and feel good. I threw away all my shame that was holding me back from being myself. The best thing that I got from her was just her pure loving, accepting, and caring character. She inspired me in a way to really practice what I learned and promise to myself to embrace the change. I am grateful for all her supports and connectedness. Her help was an evolutionary experience like no other in my life that helped me grow and become more matured.

Arshinaz A, Iran
Nazee is such a heart centered trainer and speaker, with a big smile, and deep love for her participants. I attended in her two day workshops and in my current situation, this was the most rewarding thing that could happen to me. I feel that all the locks that I had in my face and in my heart in the last four months after this class is now opened. The activities that she provided us made the whole experience more meaningful and more beautiful. With some of the activities I changed my beliefs about myself to the better ones. I also learned about my limiting beliefs and how to change them.

Pooneh, Iran
Nazee's energy is amazing and authentic. The most and first impression is her pure intention, and this quality makes everybody at ease to absorb what she means. I learned how to be more present in the moment and be grateful for all the things I have in my life.

Anonymous
Even though I have been working on my self in the last five years through attending a great self help classes in town, attending to Nazee's leadership and self improving training was a blast for me. I melted down, and I got to reconnect with my true essence. At first I was assuming that all this process could make me out of balance but now I can feel that with all my cells I can feel that I am at absolute balance. This training helped me to face my real self and love myself instead of searching love outside of myself. This process also waked me up that my bad feeling toward my parents was because I was resisting, and now I can see that they have done the best they knew, and consequently I started forgiving them and I love them so deeply and sincerely. As a result after this program when I met them I truly loved them and embraced them in my heart. I also would love to mention after doing this workshop I started to plan my days and stay committed to them. I don't know what happened to me but I know that my eyes are open to life, to myself and to the world in a new vision. I am so grateful for Nazee's love, and her great heart that she puts in her teaching peacefully for bringing peace to lives.

Shima R, Iran