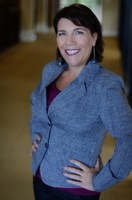 Contact Information:
949-478-0292
Visit Website
Rachel French
Life Coach, Career Coach, Performance Coach
Certified Professional Coach, FWI
I specialize in helping Smart People take risks, make big changes in the face of fear, pursue dreams that feel out of reach, and uncover why they're unhappy when they think they should feel better.
About Me
You're smart, and you've found success in one or more areas of your life. You know how to get things done. You're proud of what you've accomplished, but it's not enough for you.
Maybe you're living a life that looks good on paper but doesn't bring you the joy you think it should. Maybe you have a dream you want to pursue but don't know how to get started. Maybe you really want to make a change but feel trapped by circumstances, or the expectations of others, or your own negative self-talk.
Or maybe a change has been thrust upon you. Losing a job, watching a relationship crumble, moving to a new place—in fact, just growing older—these are changes that can be scary and uncomfortable. Yes, you can probably ride out the storm alone, but with the help of a coach, tumultuous times can be fertile ground for building a better life.
A lot of Smart People get frustrated when things aren't going well, despite their best efforts. Smart People are used to helping others, and sometimes they don't know when it's time to ask for help, and they don't know who to ask anyway.
That's where I come in. I coach from a philosophy that absolutely embraces the fact that no one knows you better than you do.
You don't need someone to tell you what to do. What you need is someone to help you get clear on what you want and make a plan about how to get it. I will ask the right questions so you can concentrate on the answers that are already inside you. I will be your partner--supporting you, guiding you, holding you accountable, and celebrating your successes all along the way.
* * * * * * *
Rachel is a Certified Professional Coach through Fowler Wainwright International with a BA from CSUF. She has 20 years of professional experience in the public and private sectors where she has served others as a trainer, teacher, manager, and mentor. She has lived on both coasts, and is happy to have settled at home in sunny southern California, surrounded by family and friends.
Reviews
Have you worked with Rachel? Tell your friends!
Rachel has helped me figure out which of my ideas are dreams to shoot for and which are ledges to be talked down from. In all of our conversations I have been able to be honest about my strengths and weaknesses. Rachel has helped me come up with strategies for working on those weaknesses in a way that left me feeling hopeful and excited about the task ahead of me rather than defeated and overwhelmed.
The end of two very important relationships sent me into a tailspin. I wasn't sure how to fill the void in my life or how to deal with the consequences of not having these people around me anymore. Rachel helped me find peace by asking the right questions and helping me understand my own answers. She helped me understand why I acted the way I did and how to proceed. Through her I gained insight into what is important to me and was able to let go of some of the emotional baggage associated with my loss. The result is that I have a confidence that I never had before, which has helped me build new, healthy connections. Having a life coach helped me realize the strength I needed to move forward.
Before having a session with Rachel, I didn't really know entirely what life coaching was all about. Is it therapy? Is it someone telling you how to live your life? Will it be useful and worth my time? One can decide how it serves him or her, but I will answer a most definite yes--it is useful and worth my time! My sessions have helped me clearly paint a picture of my goals, wants, and needs in my life for both the professional and personal sides. The results you will see and the changes you will feel within yourself are absolutely amazing! I recommend this for anybody who is willing to pull him or herself up by the bootstraps and begin walking the walk of life!
Rachel French is someone who knows how to teach people structure and problem-solving without sucking the flavor out of life. In fact, she has a way of opening people's eyes to colorful new understandings that help them evolve and graduate to new places in their lives. She'll dish out tough love when she has to but it's always for the better of the recipient. You can believe that when you place your trust in Rachel you're putting yourself in the right hands.
Rachel French became one of the most important support systems in my life during my years as a high school student. When I was a sophomore, I was beginning a new phase in my life and putting back together those pieces that had been broken for so many years. Rachel was able to help me in the first step towards healing and personal growth. I learned that hiding my emotions and running from help was what had kept me trapped. Most importantly, she taught me that there is adversity in this world that affects us all but there is also a way out. Each one of us has the capacity to find within ourselves purity and compassion--the compassion to care and to listen and yes, to heal.
Rachel helped coached me through a difficult time in my life in a way that allowed me to become more independent and more confident.