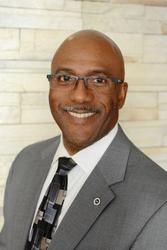 Reginald Jackson Sr Dumfries, Virginia
Executive Coach, Career Coach, Leadership Coach
MBA, Graduate of Accomplishment Coaching CTP
I coach people in transition who are in search of their next adventure! They are at a personal and professional crossroad; looking for what's next. My clients are willing to stretch beyond their norm.
About Me
Transition is defined as the process or a period of changing from one state or condition to another.
This is especially challenging when faced with more than one transition at a time! There comes a time when you just don't feel as though you have the answers you're looking for, and aren't sure where to find them!
Are you in a state of transition?
-Changing jobs/career
-Preparing for a promotion
-Looking for your next adventure
These are just a few examples of transition and I am very familiar with each of them. As a Marine Corps veteran with twenty years of service, I have led, trained, mentored, counseled and coached two generations of our nation's finest men and women! My military and civilian experience has given me insight and intuition; both of which are extremely important for a Coach.
Together, we create a partnership to create your vision and quiet the noise of indecision. I offer my clients a safe space to finally admit what they want out of life and gain the confidence to actually make it happen! They marvel at how "light" they feel; like a weight has been lifted, simply because they gave themselves permission to go after what they really want. Life is too short to live for the weekend...live for today! Don't spend another day dreading your job or confused about your life's purpose. Let's get started!
Reviews
Reginald has 4 reviews.
Reginald Jackson has been a mentor and advisor to me for over 10 years. His guidance has extended well beyond my service in the United States Marine Corps, and he has played an integral part in my transition from a service member, to full-time student and into the work force. His personal example is his best asset - he works diligently and professionally to achieve outstanding results while providing substantive mentorship and elite caliber team-building expertise. Reginald is a phenomenal career and life counselor who takes an immediate and personal interest in the success of his clients and team. This individual is a one-of-a-kind. Reginald consistently ensures his team is well-prepared, technically proficient, and confident in their ability to achieve lofty goals. He is a first-rate professional who takes pride in his work and the success of his team. Simply said, he is a person who can always be counted on to do the right thing.

Chad K., Policy Analyst, Washington, D.C.
With "joyful satisfaction", I have learned to become more efficient and organized with my time, as well as strengthen my communication in my professional relationships. Reginald has a way of connecting with his clients to really find the root of each challenge you may have. I would refer Joyful Satisfaction Coaching to anyone looking to improve themselves.

Morgan M., Hair Stylist, Raliegh, North Carolina
The first hour conversation I had with Reggie literally changed my life. There were a few decisions I needed to make in my life but I didn't have the courage to make them. Reggie coached me through this and gave me the confidence I needed to make those decisions and to feel good about it. The confidence, action plan, and accountability gave me the ability to make those decisions that were impacting my life. Reggie is truly a one of a kind coach. Not only does he sincerely care about you as a person but he cares about your success. He helps you be the best person you can be. You tell Reggie what you want out of life and he will help you get there. For anyone who wants to go somewhere in life and wants to be successful, I encourage you to incorporate Reggie in your life.

Rebecca P., Bank Manager, Manassas, Virginia
Joyful Satisfaction Coaching is outstanding! I have made huge discoveries within my personal and professional lives as well as seeing how to become the most effective and efficient me, I can be!!!! Thank you Joyful Satisfaction Coaching!!!!

Calvin S., M.S. Band Director, Gibbstown, New Jersey