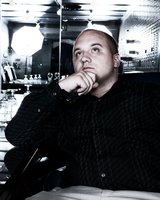 Contact Information:
Stewart Joseph
Life Coach, Performance Coach, Leadership Coach
Certified Professional Life Coach I Mental Health Consultant I Host of #ThriveCast I The People's Change Agent
Coaching is a powerful process that can end the struggle in your life, & accelerate your success and fulfillment. Schedule yourself a coaching session today coaching will help you transform your life!
About Me
Stewart Joseph is an influential, positive, and passionate catalyst for transformation, peak performance, and peace sharing a deep message of harmony and service to others and has a primary focus to help the nations vulnerable (at-risk) youth population. He brings a unique name to the term Change Agent with a visionary ability to recognize potential in individuals that explode into action for amazing results.
Stewart Joseph is somebody who you will quickly notice is comfortable with any topic as it pertains to the growth of your life. Coach Stewart Joseph also brings a variety of approaches to coaching never constraining those he serves to using only one branded model or school of coaching technique.
Through his life experiences of overcome adversity, addiction, and his partnership with the Family & Youth Roundtable Stewart Joseph realizes that the approach to coaching not only depends on your own life experiences but the main focus is always on the nature and needs of that particular individual who is being coached.
Stewart Joseph has already customized very successful programs for those he has already served and has been nominated for many awards in the San Diego Community as a Star in the Prevention of Child Abuse and is recognized as a leader in the community, he is somebody who has turned his life from ashy to classy with hard work and dedication. He will give you advice, answer all of your questions about life coaching, and work with you to customize an internal coaching program that identifies your needs.
Reviews
Have you worked with Stewart? Tell your friends!
"Stewart Joseph is dedicated to youth leadership. His radio show and podcast help bring positive thinking skills for success to his audiences. I was honored to be a guest on his show sharing my story and inspiring people to follow their passion."
"Stewart is passionate, caring, dedicated and compassionate. He truly revels in any opportunity to help and be of service to others. He demonstrated a natural ability to actively listen and create a safe and supportive atmosphere while a student in my coaching class."
"Stewart was a student in a few classes I taught at the William R Mead Academy. He is extremely passionate about helping others especially at risk youth. Stewart in knowledgeable on emerging and best practices in the behavioral health field, and is very inquisitive and willing to ask question and seek guidance. Based on my observations, I believe Stewart has a very bright future in the behavioral health and helping profession."
"Stewart Joseph is one of the most passionate, insightful and well organized community servants I have ever met! His years of personal experience is definitely an asset towards his mission to empower the lives of young adults who are having a difficult time staying the course."
"Stewart is an enterprising individual who gets things done. He is a conscious, considerate person"
"As a fellow personal development junky, Stewart has truly taken his passion to improve his own life and situations into extream good and turn this knowledge and hardship into education to help the world in a big way. Hearing what he is doing and continues to do for so many and providing what our youth and youth of all ages need Stewart is an inspiration and a wonderful connection for each of us to have in our own lives. Thank You Stewart for all you do .. Shine On! ~Expect Miracles"
"In our society today there are few people who can reach at-risk youth. Children are literally dying to be heard. I truly believe this is why Stewart Joseph upholds his cause! He is determined to teach at-risk youth about their true potential giving them the ability to make better choices, the ability to choose a better life and the ability to recognize their future! Stewart will be a person to remember for future generations!"