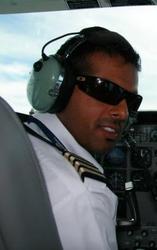 Contact Information:
Ty Chaudhry
Health and Fitness Coach, Life Coach, Spirituality Coach
BA, Airline Pilot
I coach people that need a kick start in LIFE!! I help my clients by getting them to take care of themselves physically which in turn makes them feel better = Positive Impact in Life
About Me
My name is Ty. I am an Airline Pilot. I took an early retirement from my Flying Career to enjoy LIFE and help others in the process.
I used to be obese during most of my life. Eventually a day came where I decided that I wanted to take control of what happened to me. I lost 100 lbs and now am in the best shape of my life. I did this by becoming a positive person among other things. I did it and so can you! Let me help!
Reviews
Have you worked with Ty? Tell your friends!
Ty doesn't have any reviews yet.