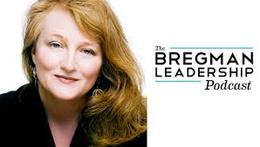 Bregman Partners, Inc.
Peter Bregman is the CEO of Bregman Partners, Inc., a company that strengthens leadership in people and in organizations.
He is the host of the Bregman Leadership Podcast, short conversations with thought leaders focused on ideas that people can use to become more powerful and courageous leaders.
Peter bases his work on the notion that everyone–no matter their job or level—has the opportunity to lead. Unfortunately, most don't. There is a massive difference between what we know about leadership and what we do as leaders. What makes leadership hard isn't theoretical, it's practical. It's not about knowing what to say or do. It's about whether you're willing to experience the discomfort, risk and uncertainty of saying or doing it.
In other words, the critical challenge of leadership is, mostly, the challenge of emotional courage. Since 1989, Peter has trained and coached all levels of management and individuals to recognize their leadership, exhibit leadership behaviors, model and stimulate change, and foster growth of their own emotional courage as well as that of their teams and colleagues.
Details

Visit Website

Address:

239 Central Park West. Suite 7C

508.265.0293
ecohen@bregmanpartners.com
Programs
Bregman Leadership Coach Training
Description: This program offers hands-on coaching practice and opportunities for dramatic personal growth. Learn Peter Bregman's QUICC Results™ Method—a reliable process to help clients achieve significant traction on their most important work in just 30-minute sessions. You learn to
Focus on the key thing that will make the biggest difference to your client's success
Flex your coaching technique based on where your client is stuck
Cultivate emotional courage, the key to unlocking forward momentum in yourself and your clients
Use individual coaching sessions to drive organizational outcomes
Ensure follow-through between sessions and inspire clients to work towards a vision that is bigger than they imagined.
Take home tools you can apply the next day to reinvigorate your passion for coaching and accelerate your clients' results.
ICF Certification:

Price: 1500 US Dollars
Length:
Hours of Instruction: