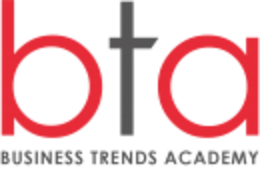 Business Trends Academy
The BTA was founded over 10 years ago by Gabriele Fleischmann-Hahn in Berlin. Their idea was to revolutionize the training market and put the customer and quality first. What sounds trivial from today's perspective was something special 10 years ago. Through the intensive personal support during the common journey that every customer takes at BTA, we create a familiar feeling paired with the highest quality standards.
Now run as a family business, the BTA creates a learning environment that is characterized by respect and humanity. A welcoming culture in which we take responsibility for our customers. We always strive for the ideal relationship between tradition and innovation.
BTA lecturers come from practice and accompany our customers in the classroom and beyond. We only use digital learning content to support the learning process. With our large network of alumni, companies, trainers and coaches, a lively exchange, assistance of all kinds and ongoing support is possible.
The BTA now has 2 locations in Berlin. Our customers for further training, coaching and our company offer come from all over Germany, Austria and Switzerland
Details

Visit Website

Address:

Berlin-Wilmersdorf: Nestorstrasse 36 10709 Berlin

030 95 9999 100
sekretariat@bta-weiterbildung.de