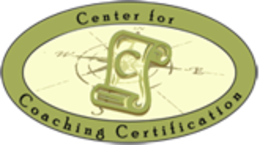 Center For Coaching Certification
The Center for Coaching Certification is all about you with a mission and vision focused on maximizing your coach training and supporting your success for the long term.
Mission: Enhance your coach training experience with quality, professionalism, and support.
Vision: A high-quality, ethical norm throughout the coaching profession achieved through leadership by example.
Details

Visit Website

Address:

1677 Deverly Drive, Lakeland, FL 33801

1-800-350-1678
CoachSupport@CoachCert.com
Programs
Certified Professional Coach Program
Description: Five live, interactive online classes:
1. About Coaching: What a Coach Is Not, What a Coach Is, How to Excel as a Coach with the 11 Core Competencies
2. Ethics: What the specifics of the Code of Ethics means for you, scenarios and what to do, and ethical accountability
3. Understanding Your Client – a tool for recognizing how your client is thinking and interacting combined with tips to adjust
4. Communication – techniques for fully engaging through listening, clear, direct language, and asking powerful questions
5. Focus and Motivation – tools for recognizing language patterns and thought patterns to create a shift for a positive forward focus
Research, Practice, and Report:
After each online class you will have an assignment to either research and reflect or to practice specific people and communication techniques, then write a two-page report. Expect to invest at least 90 minutes in each of your reports.
Price: 1695 US Dollars
Length:
Hours of Instruction:
Certified Master Coach Program
Description: Seven live, interactive online classes:
Before each class you will write a one to two page report responding to three questions.
Group or Team Coaching – explore considerations for coaching groups or teams and prepare for your group coaching
Ethics and Agreements - review the don'ts and the do's for competencies 1 and 2, then explore application
Coaching Process - discuss the don'ts and do's for the competencies 3 and 4, then expand with the how to tips for a coach
People and Communication - consider the don'ts and do's for competencies 5, 6, and 7, then confer on how to effectively use the techniques when coaching
Creating Change with Confidence - go through the don'ts and do's of competencies 8, 9, 10, and 11, then delve into application when coaching
Time and Money Coaching – talk about coaching on sensitive topics with specific examples for time and money coaching
Debrief - chat about learning points and plan for your next steps as a coach
After each class you will write a one to two page report responding to three questions.
Price: 1895 US Dollars
Length:
Hours of Instruction: