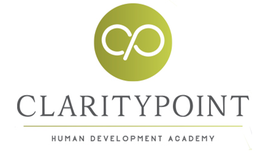 Claritypoint Coaching
Our revolutionary, time-tested, science and psychology based coaching process gives you a powerful curriculum to help your clients create mental health, self-esteem and good relationships.
We also offer one of the most comprehensive coach training programs on the planet.
You will receive:


Ongoing weekly training forever


Access to top coaches to answer questions and get advice


A community of like-minded professionals for support and encouragement


Science based technology tools like a HVP assessment tool to measure your clients thinking on the subconscious level


An App for your clients to access and manage coaching materials, homework and to reinforce learning after coaching is done.
Comprehensive marketing training so you can get clients
Help to become a speaker, author, or corporate trainer too


How much easier would it be to market yourself as a coach, if you had a world class, proven program to offer your clients?
ClarityPoint Coaching gives you all the tools you need to help clients make real lasting changes. Our program is also a perfect addition to other coaching specialties like health, career, or financial coaching. The program fits in with whatever else you want to offer.
Our coaching process is so powerful many mental health professionals, counselors, social workers and therapists are certified and use coaching with their clients.
Master Coach and CEO Kimberly Giles has been a top earning coach for over 14 years and she know exactly how to build a successful coaching business and bring life changing content to your clients. She will give you a proven road map to success and certify you to facilitate this breakthrough mental, emotional and social intelligence program.
Details

Visit Website

Address:

Salt Lake City, Utah

Contact:

Kimberly Giles
801-201-8315
coachkimgiles@gmail.com
Programs
Claritypoint Coach Certification Program
Description: This comprehensive Coach Certification is done entirely online and by conference call. It can be completed in under 5 months. The course consists of 20 Lessons which cover our assessment science, facilitating the process, coaching skills and marketing. You also immediately become part of the ClarityPoint Community and have access to thousands of hours of additional training. Your fee also includes your first year with Noomii.com If you are interested in learning more about our program and trying our Clarity Assessment for yourself visit www.claritypointcoaching.com
Other programs teach you how to coach – we give you a proven program that makes you a world class coach.
Price: 5000 US Dollars
Length: 180 days
Hours of Instruction: 40 hours
Reviews
Kim Giles and the Claritypoint coaching is an amazing program. The coaches practice what they learn. Kim Giles herself makes sure that all in her program reach their potential. She takes a person interest in helping people reach their potential. She is one of a kind and her program is a successful one of a kind program. I would recommend Claritypoint and Kim to anyone looking to make changes in their life.

Kristena Eden
The ClarityPoint coaching program was introduced to me by Kim Giles. I got to see firsthand the power and impact it can have on lives, especially my own. The training is extensive, intricate and personable. The training was masterfully lead, the discussions pertinent and thought provoking and each lesson had outstanding outcomes. We went through the entire program to ensure we understood exactly what we would require of others. If you are looking for a life changing program, a clear direction in life, or something that can help your personal life or organization improve performance, communication, personal value and improve production I recommend you get in touch with ClarityPoint Coaching. It's just that good...

Darroll Young
My experience with the Clarity Point coaching program was nothing but positive. Kim Giles is an excellent teacher with a passion to help others overcome their fears and gain clarity that they are enough. Her program is unique in that is provides tools and strategies to overcome life obstacles and become resilience to destructive subconscious beliefs. The training time to become a certified coach was efficient and effective. We not only learned and implemented the program into our own lives, but we also learned the skills needed to become a successful professional life coach. One of the best parts of the Clarity Point coaching program is the continual support you will receive; as Kim learns and grows, she shares her knowledge and experiences with you so you can be more effective in serving your clients. As a former client, and now coach, I would strongly encourage anyone to participate in this program. You will change for better and learn how to help others find joy in their journey.

April Hulet