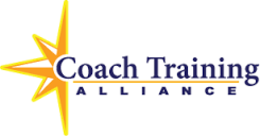 Coach Training Alliance
Coach Training Alliance is revolutionizing professional coaching. As a leading, global coaching organization, it's our prerogative to help maximize your potential through life coaching, professional coaching, and personal coaching by enriching your lives and creating better, profitable opportunities. Thousands of coaches have come to Coach Training Alliance for our ICF approved certified coaching programs and continuing education courses. Our specialized coaching programs, courses, and workshops are designed to create positive change, regardless of the types of goals. We aim to inspire and to radically change the way you invest your time and energy for the better.
Details

Visit Website

Address:

885 Arapahoe Ave.

Contact:

Lisa Pisano, CTA Certified Coach Director of Admissions
303-991-0388
Lisa@CoachTrainingAlliance.com
Programs
Certified Coach Program:
Description: Coach Training Alliance's step-by-step process, approved by the International Coach Federation (ICF), takes out the guesswork and gives you the tools for profitable success. Our unique approach stems from a multidimensional emphasis on ALL components of becoming a successful and profitable coach. In addition to required coaching skills and techniques, during our six-month course, you will learn and apply business development skills and gain professional practice marketing expertise.
Price: 2897 US Dollars
Length: 180 days
Hours of Instruction: 170 hours
Coach Training Accelerator
Description: The Coach Training Accelerator™ Online Program is a proven path to success - built for coaches by successful practicing coaches. Thousands of coaches have found their path with this best selling self study program. Blending authenticity, a commitment to success, discipline, integrity, communication and business savvy, the Coach Training Accelerator™ online is one of the most comprehensive compendiums of training material in the field of coaching today.
Price: 299 US Dollars
Length: 140 days
Hours of Instruction: