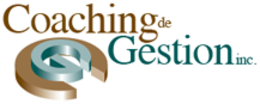 Coaching De Gestion Inc.
Coaching de Gestion is the first North American coaching school founded in 1997. Its mission is to provide coaching training programs for managers and professionals who wish to engage in the development of individuals and inspiring organizations for a better world.
Details

Visit Website

Address:

1082, rue Charcot - Bureau 401

Contact:

Michèle Ferland.
514.735.9333
info@coaching.qc.ca
Programs
Programme d'Entraînement au Coaching Professionnel (PECP) et Programme de Développement en Coaching Exécutif (PDCE)
Description: A coaching program aimed at becoming a certified professional coach (business coach, management coach, career transition coach, personal and professional development coach, team and group coach, etc.) who:
Is accredited by the International Coach Federation (ICF)
Allows access to ICF professional recognition
(60 hours of ACSTH training) or the certification path issued by Coaching de gestion inc. (127 hours of ACTP training)
Includes a mentoring coaching block of up to 10 hours, by coach mentors PCC or MCC
Is based on an active practice and role-playing approach
Uses self-learning
Is available in the classroom or via tele-training (distance learning).
ICF Certification:

Price: 9900 Canadian Dollars
Length:
Hours of Instruction: 126 hours