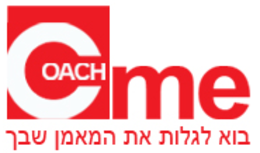 Coach Me Ltd.
After over a decade of success and hundreds of groundbreaking graduates in Israel and abroad, we invite you to join our success!
Personal training courses with the leading facilitators in Israel, Yoram Gordon - Master in personal training, Dr. Snee Gordon Bar - clinical psychologist and coach coaches and Osnat Yellin - senior international trainer.
• 246 academic hours
• Training and accreditation are also recognized by the International Federation for the Training of the ICF and by the Israel Coaches' Association.
• A clear and proven coaching approach to empowerment and extraordinary achievement
• A universal training model for both life and business and managers
• Studies take place at the center
• free! The complete guide to choosing a training course for training in Israel
This is your chance to break through and realize a dream!
Details

Visit Website

Address:

23 Dragot st.

Contact:

Sunny Gordon-Bar.
972.353.45393
sunny@coachme.co.il
Programs
Systems Coaching Training
Description: Being a coach of a coaching group means being a leader.
A leader is someone who helps other people get the best out of themselves.
When you lead a coaching group you will be a leader.
Let your customers realize themselves more intensely:
Achieve their goals easily and quickly.
- To operate and grow in a supportive and safe environment.
- Make use of the resources of the group members to achieve their goals.
What is the added value of leading a coaching group for you?
Help your customers get more results.
Use your time wisely - train more simultaneously and train to earn more and promote your branding as a coach.
What will you get in a coaching group training course?
Organized methodology How to build and successfully lead a training group.
The methodology includes knowledge, tools and skills unique to leading a training group.
In the course you will learn how to maximize each participant's achievements by using the group's strength, wisdom and resources.
ICF Certification:

Price:
Length: 142 days
Hours of Instruction: 125 hours