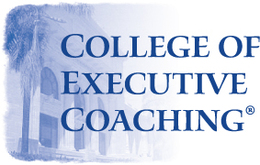 College Of Executive Coaching
The College of Executive Coaching Approach is rooted in our key values: integrity, competence and professionalism. These values underpin our interactions with our clients and students as well as infuse our coaching style.
Whether you are a coach completing our post-graduate certification program or a coaching client or organization, you can rest assured that you will be interacting with professionals who place the highest value on integrity, trust and confidentiality. In addition, we strive to demonstrate the highest level of competence in all areas of how we conduct ourselves, whether it is leading the field of coach training, creating the best leadership development programs, or interacting with you, our clients and students. You can expect you will be treated as a professional and that our faculty and staff will interact with you in a professional, courteous, supportive, and service oriented manner.
Our coaching approach has been built on Dr. Jeffrey E. Auerbach's holistic, values-based, action oriented style of coaching. We practice and teach an assessment based professional coaching process adapted from the Center for Creative Leadership, one of the early pioneers in executive coaching. In fact, since many of our faculty were active leaders at the Center for Creative Leadership (even starting the executive coach training program for CCL before leaving to create a boutique coaching firm and teach for the College of Executive Coaching) our level of excellence in coaching knowledge, technique and experience is rarely matched. Please compare us in terms of price fairness and faculty experience to the Center for Creative Leadership and you will find that our program quality, and our faculty, compare extremely favorably.
Details

Visit Website

Address:

897 Oak Park Blvd. #271

888.764.8844
training@executivecoachcollege.com
Programs
Advanced Certified Personal and Executive Coach.
Description: The College of Executive Coaching has a world-class faculty of successful, Master's and Ph.D. level, often world-renowned, experienced coaches. Your training experience will be greatly affected by the knowledge, experience, facilitation skills and values of the instructor. We are extremely proud of the College of Executive Coaching Faculty. In addition, to completing the certification process, you work one-on-one, for twelve sessions, with one of our faculty in the Individual Learning Labs. This is like having twelve "coaching sessions" and most students use this training, mentoring and coaching experience to help them build their practice.
The peer group within CEC is made up of professionals with graduate degrees. Our students who have taken courses in other training programs before they enrolled in our program consistently report that our students are at a higher level of sophistication than the mix of students they have found elsewhere. When you consider that the other students greatly influence your experience, as you are exposed to the type of questions they ask and practice coaching with them on a regular basis, most professionals factor "who will be the other students" into their decision-making.
We believe that the CEC program is the most content rich of the coach training programs. You receive training in both personal coaching and executive coaching. Most of our students already have years of experience and training in communication and building rapport - so our courses are not similar to paraprofessional counseling skills courses -- which is a criticism of many coach-training programs.
In addition, our Niche Marketing: How to Create Your Ideal Practice course, provides systematic guidance to assist students in discovering their unique strengths, formulate a niche coaching practice, and design and implement a strategic marketing plan.
Participants also get practice coaching in all of our courses. Our students have the added benefit of networking with others from around the country -- and world -- that have similar interests.
ICF Certification:

Price: 9490 US Dollars
Length:
Hours of Instruction: 125 hours