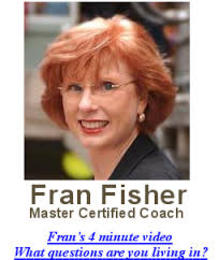 Fj Fisher Coaching And Consulting
Fran Fisher is a Master Certified Coach, recognized as a pioneer of the coaching profession. She works primarily with entrepreneurs, executives, and collaborative work teams, as well as skills training and mentoring for aspiring coaches. Fran founded the Living Your Vision® process and the Academy for Coach Training, one of the first schools accredited by the International Coach Federation (ICF).
In 2005, shifting her focus to private practice, more writing and speaking, Fran sold the LYV and ACT businesses and associated trademarks to inviteCHANGE, LLC, located in Edmonds, Washington, USA.
She was a founding executive board member of ICF, serving as Chair of the Credentialing Development Committee, and she was the first executive director of the Association for Coach Training Organizations (ACTO).
Fran's passion is empowering individuals, teams, and organizations for realizing their highest visions. As a master coach, her expertise is helping visionary leaders fulfill their highest aspirations.
In November 2012, Fran was awarded the 2012 Lifetime Achievement Award, ICF chapter Washington State.
Details

Visit Website

Address:

4165 178th Lane SE 307.

Contact:

Fran Fisher.
425.401.1374
fran@franfishercoach.com
Programs
Living Your Vision for a Coach
Description: The most experienced and influential leaders reach a stage of life where they have the freedom to focus on fulfilling their own life purpose, achieving optimal effectiveness and building a meaningful legacy.
LYV provides a confidential, custom-designed, transformational process to:
Re-invent yourself and re-energize
Call forth your innate greatness
Achieve a greater sense of vitality
Move to a higher purpose for meaningful influence
Enjoy deeper personal and professional fulfillment
Today, the media is filled with stories about how admired leaders made personal and career changes to live more true to their definition of a meaningful life: Sheryl Sandberg, creating an authentic and fulfilling life; Marshall Goldsmith, modeling a life and business focus on what matters most; Arianna Huffington, defining "well- being" as her definition of success.
ICF Certification:

Price:
Length:
Hours of Instruction: 30 hours