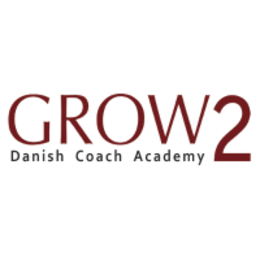 Grow2
GROW2 works with professional coaching as a development and management tool focusing on existing strengths and resources. The yield is positive changes for individuals and businesses.
GROW2 is owned by Connie Friman, a Master Certified Coach (MCC) from ICF and Master of Positive Psychology from Aarhus University (MOPP). She also has many international coach certifications and a broad business and managerial experience.
Connie is an ICF certified examiner at all levels, and was president of ICF Nordic and co-founder of ICF Denmark in 2007.
GROW2 is today a recognized coach company in Denmark because GROW2 sets its own quality level according to international standardization requirements for ethical and competent coaching. GROW2 is the first coach in Denmark, accredited at the highest level of ICF - an ACTP certification.
Details

Visit Website

Address:

Skraenten 9, Skarresoe Mark

Contact:

Connie Friman.
0045.2094.4096
kontakt@grow2.dk
Programs
Grow2 Certified Master Coach
Description: The GROW2 Master Coach program focuses on the tools "Strength-based Coaching" and "Team Coaching and Relationscoaching".
GROW2 master coach training-your direct way to an ICF certification
A GROW2 Master Coach training enables you as a coach to develop within the very powerful tools, methods and theories, such as strength-based coaching, team coaching and relationship coaching. You get theory, training, supervision and mentor coaching, so you master the demands made by ICF for a PCC certification.
During the training you will work in depth with the new theories and methods that, together with your coach experience, further develop your coach skills so that you can coaching on a high and unique level. It's coaching where you really get the opportunity to try out strengths as well as Team and Relationscoach in your everyday life. You will, like the GROW2 Certified Master Coach and ICF Certified Coach, make an even greater difference for your employees, clients and colleagues.
GROW2 Master Coach education accredited at the highest level at ICF (International Coach Federation) - it is called an ACTP approved coach education. This means that with your GROW2 Certified Master Coach® certificate you will only submit this and your statement of your coach sessions to ICF, after which you will receive your ACC certificate or your PCC certificate depending on how many hours of coaching experience you have.
ICF Certification:

Price: 4558 US Dollars
Length: 142 days
Hours of Instruction: 200 hours