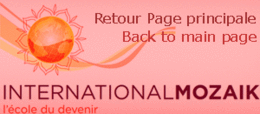 International Mozaik L'école Du Devenir
NTERNATIONAL MOZAIK has become a partner of multinational and local companies for coaching individuals, teams, and organizations in a way that is self-sustaining and continuously evolving.
INTERNATIONAL MOZAIK continues to provide continued excellence in the Art & Crafts of Change, working with a pragmatic and global approach, combining people and an organization's evolution toward sustainable performance and well being.
This approach integrates "trans disciplinary" concepts that share common assumptions about human behavior and learning process and applies them to look at the complex and uncertain business context.
Developing capacity for sharing and passing on their professional experience is the common passion that brings together a diverse community of ICF Certified Coaches and innovative researchers.
All programs contain a high level of collective learning process that will help participants to develop new ways of thinking and acting and their own skills to explore new territories.
Involving a wide variety of contributors in its faculty and presenting creative coaching tools are key factors in International MOZAIK's success.
Details

Visit Website

Address:

14 bis, rue de Milan

Contact:

Mrs. Daniele Emilie Darmouni.
330.1532.01194
info@mozaik.fr
Programs
Formation au Metier de Coach
Description:
ICF Certification:

Price: 3190 Euros
Length: 12 days
Hours of Instruction: 96 hours