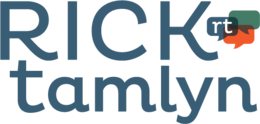 It's All Made Up, Inc.
It's All Made Up! There is power in believing that. I believe that life itself is one big game that's all made up. Your life is what you make it to be. I believe we can and should create the lives we want by continuously playing bigger games.
Instead of waiting for the future to come, why not make up your life as you go? We do this whether we realize it or not. We create mental pictures of our lives. Sometimes they are good, sometimes they're bad, but they're always "all made up." These mental pictures are the basis of our created experiences. Remember, your life goes in the direction of the thoughts you carry in your mind and the words that fall out of your mouth.
So if life is a game and it's all made up, why not play a game of your own design - one that excites you, challenges you, and allows you to fully express your talents and creativity?
The 7 ideas that Rick shares in his audio program will show you how to shift your thoughts, perspectives and energy to make up a life for yourself that is truly magnificent.
Whether it's better relationships, financial abundance, physical vibrancy, a fulfilling career or anything else you desire, Rick will lead you to the splendid existence that is your birthright.
Listen to Rick and learn to…
Realize your unspoken passions right now.
Have people treat you the way you want and deserve to be treated. Use your thoughts and emotions to point your life in the direction of your most fulfilling dreams.
Details

Visit Website

Address:

20 Lakeshore Terrace.

Contact:

Chuck
818.641.6142
chuck@itsallmadeup.com
Programs
The Bigger Game Workshop
Description: The Bigger Game is a philosophy and methodology that inspires executives, leaders, and individuals to get out of their comfort zones and create intentional positive change.
Reminiscent of a simple tic-tac-toe board, it was designed from the premise that life itself is one big game. And if life is a game, then why not play one that excites, fulfills, and challenges you to fully express your talents and creativity?
The Bigger Game has caught the eye of Fortune 100 companies, non-profits, churches, groups, and individuals around the world. At its core, The Bigger Game will help you discover your compelling purpose. It is an innovative model that guides you to create a set of circumstances that will intentionally design who you want to become.
ICF Certification:

Price: 297 US Dollars
Length: 2 days
Hours of Instruction: