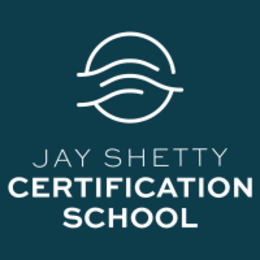 Jay Shetty Certification School
With the Jay Shetty Certification School, students can become certified coaches based on Jay's 10 Coaching Competencies and learn the same unique wisdom from Jay's coaching experience.
Jay Shetty Certification School is based on Jay's Coaching Framework: ABCs of Coaching that combines Jay's influential wisdom and experience with traditional coaching theories, industry competencies, and international standards.
Jay's framework develops the competencies to harness the full potential of clients competently and responsibly teaching coaches 10 core skills.
1. Meet ethical, legal, and professional guidelines.
2. Establish a coaching agreement and outcomes.
3. Build a trust-based relationship with the client.
4. Self-manage and maintain a strong coaching presence.
5. Communicate effectively.
6. Raise awareness and insight.
7. Design strategies and actions.
8. Maintain forward momentum and evaluation.
9. Undertake continuous coach development.
10. Above all, do no harm; respect the client's dignity, autonomy, and boundaries.