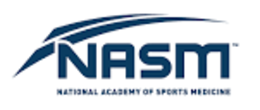 National Academy Of Sports Medicine
Now in our 30th year, the National Academy of Sports Medicine has been world-renowned for the quality of our personal trainers and the scientific rigor of our program. NASM offers a Certified Personal Training program, with 4 learning packages available. And NASM specializations can take your personal training skills to a whole new level.
NASM courses were developed using our proprietary Optimum Performance Training™ (OPT™) model, a system based on scientific, evidence-based research. These courses maximize your skills and ability to help your clients excel beyond ordinary expectations, while improving your career opportunities.
Details

Visit Website

Address:

1750 E. Northrop Blvd., Suite 200 Chandler, AZ 85286-1744

800-460-6276
nasmcares@nasm.org