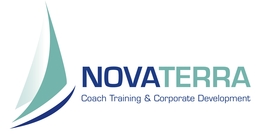 Nova Terra Coach Training & Corporate Development
Nova Terra is a learning space without borders which stands for the diversity of cultures and approaches, today translated in International Master coaches sharing their experience in several campuses under the concept of the 'coaching caravan'. This principle was established by the leaders of the European ICF Chapters in 2003 already. The "Coaching Caravan" involves the sharing of knowledge and the exchange of coaching practices, speakers and workshop and seminar facilitators among countries, allowing participants to discover different coaching approaches in several cultural environments.
Details

Visit Website

Address:

Bastion Tower, 21st Floor, 5 place du Champ de Mars.

Contact:

Mrs. Sylviane Cannio.
(+32) 2.358.40.83
sylviane@novaterracoaching.com
Programs
Art & Mastery of Coaching
Description: To master the 11 Core Competencies of the ICF to become a professional coach and coach your first « real clients » in the framework of your Nova Terra certifying coach training.
Subsidies available from KMO Portefeuille and The Brussels Region.
ICF Certification:

Price: 6550 Euros
Length: 279 days
Hours of Instruction: 125 hours