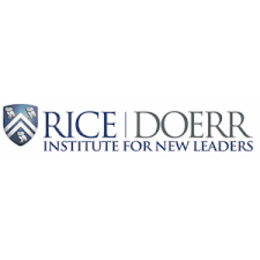 Rice University Doerr Institute For New Leaders
CoachRICE: A Leadership Coaching Program is facilitated by professionals from the Doerr Institute and uses a variety of teaching methodologies to give you a practical coaching skillset combined with the rigorous academic standards of Rice University. The CoachRICE program will train and equip you to develop your team members and high potential leaders, all while strengthening your entire organization. After successful completion of the program, participants will earn a Rice Certificate of Achievement verifying completion of the 60 hours of coach-specific training required for the International Coaching Federation's (ICF) Associate Certified Coach (ACC) credential application.
Administered by the Jones Graduate School of Business, CoachRICE includes concentrated learning modules where participants will explore processes that combine collaboration, creativity and compassion to become a co-active agent of change for clients and organizations.
Details

Visit Website

Address:

6100 Main St., Houston, TX 77005

CoachRICE@rice.edu