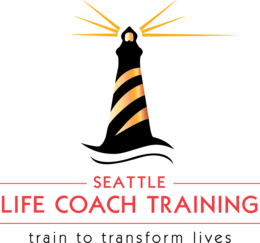 Seattle Life Coach Training
Are you seeking a career where you wake each day and know you are making a difference in the world? This rapidly growing career is within your reach! With the completion of our Life Coaching Training Program in Seattle you will be ready to help others excel in all aspects of life while gaining clarity of your own goals and aspirations. While enrolled, you will have the opportunity to start your own life coaching business or to excel in the business you are already in.
Seattle Life Coach Training has been selected for the 2015 Seattle Award in the Education category by the Seattle Award Program. Each year, the Seattle Award Program identifies companies that have achieved exceptional marketing success in their local community and business category. These are local companies that enhance the positive image of small business through service to their customers and their community. These exceptional companies help make the area a great place to live, work, and play.
Seattle Life Coach Training is a real-time, in-person, residential life coach training program in Seattle located in the convenient thriving, trendy neighborhood of Georgetown in Seattle between the I-5, Highway 99 just 3 miles directly south downtown Seattle. SLCT is in one of Seattle's hippest neighborhoods, and within walking distance to coffee shops, and an eclectic mix of restaurants. We also offer free on-site parking, so no worries about trying to find parking while in class.
Our program incorporates personal, professional and spiritual development simultaneously. We assist our students in connecting to their intuition, higher power, and their inner knowing. You will receive unparalleled life coach training, find your voice, and show up in the world in a different, more powerful way. Upon completion of the 140-hour life coach training program, you will earn a certificate of avocational completion. This 140-hour Life Coach training program covers all the core competencies as outlined by both the International Coach Federation (ICF) and the International Association of Coaching (IAC). Seattle Life Coach Training fully prepares their students to become a member of the ICF and IAC after successful completion of the program.
SLCT offers two start dates a year; January and August and each 140-hour program taking 6 months to complete. SLCT also offers an interest-free payment plan for your convenience. The enrollment process is done electronically and all forms of payments are accepted. Bring a Friend and Save - Special tuition savings are available to couples and groups who register at the same time.
Whether you are interested in embarking on your own personal journey or are being called to coach, SLCT will provide you with the tools and resources you need to change your life and the lives of those around you. Seattle Life Coach Training is excited and ready to propel you into your new dream career as a certified transformational life coach!
Details

Visit Website

Address:

206.659.8118 650 South Orcas Street Suite R203 Seattle, WA 98108

1-206-659-8118