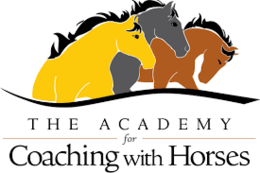 The Academy For Coaching With Horses
The Academy for Coaching with Horses is dedicated to raising human consciousness through interaction with horses, all animals, and Mother Earth. We value and strive to elevate levels of Love, Honor and Respect for all. The innate knowledge and wisdom offered through these educational and expansive experiences are life-altering and bring forward one's truth, authenticity and deep-seated life purpose and passion.
Our equine programs, leadership training, educational adventures and retreats focus on bringing greater awareness with forward movement toward new behavior and feeling patterns based on the individual's findings. Our programs are designed for those who wish to advance their consciousness and leadership skills so they may be of service to others and to animals. We cherish creating supportive community, exploring the profound experiences offered through horses (and other animals), diving deep into the present moment, and creating clarity with action toward a meaningful future and union with all.
Details

Visit Website

Address:

4424 West County Rd 4.

Contact:

Ms. Kathy L Pike.
720.432.6616
Kp@coachingwithhorses.com
Programs
Equine Facilitated Learning and Coaching (EFLC) - Level One Training
Description: he EFLC (Equine Facilitated Learning and Coaching) Level One training program is based on the philosophies and theories shared in the book: Hope from the Heart of Horses: How Horses Teach Us About Presence, Strength and Awareness, by coach Kathy Pike. (Available in our Equine Facilitated Learning Store.)
This 7-day EFLC Level One is designed to blend horse wisdom with the human experience to expand possibilities and consciousness with a focus on helping people access their true authenticity and potential. You will participate in the 3-day Dance of Authenticity through the Wisdom of the Horse program, have one day off, then continue with 4 full days of EFLC Level One training designed to begin developing the ability to coach a client in the presence of a horse. You will uncover new skills based on a body-centered awareness with an emphasis on coaching.
Through your own experiences with the horses during the program, you have the opportunity not only to refine your skills in working with others, but also to deepen your ability to communicate and work with horses. Level One offers a stimulating environment to develop your unique voice and focus in the rapidly growing movement of employing horses as teachers, mentors and guides for humans.
We attract clients from many walks of life from all over the world. Our programs are offered in Europe, Australia, and several locations in the United States. We strive to deliver an experience that offers structure while at the same time encouraging innovation and exploration on a personal and professional level.
ICF Certification:

Price: 2400 US Dollars
Length: 7 days
Hours of Instruction: