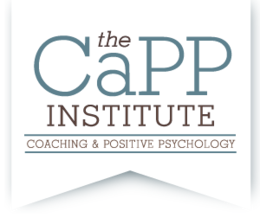 The Coaching And Positive Psychology (Capp) Institute
The Coaching and Positive Psychology (CaPP) Institute™ equips established and aspiring coaches with the educational and foundational tools to become exceptional in their field, whether in individual practice or in a corporate setting leading and developing teams. We provide our clients with the proper training to help individuals achieve specific goals, such as maximizing their career, improving relationships, overcoming fear, and achieving personal dreams. We focus and filter our materials through the field of positive psychology, giving you the power to better understand and adapt to your clients needs. Positive psychology is the scientific study of what happens when things go right in life. Join the hundreds of CaPP graduates™ and get the training you need to:
Take your coaching skills to the next level.
Be effective every single time you coach a client.
Utilize evidence-based training rooted in proven research.
Learn specific techniques that will accelerate a client's progress and your business.
Learn the core skills necessary to excel at building a successful business in helping other people achieve success in both work and life.
Details

Visit Website

Address:

2002 Commerce Dr. North. Suite 100

Contact:

Erika Davis
404-592-5262 ext.88
edavis@cappinstitute.com
Programs
Coach Training Intensive
Description: The Coach Training Intensive has 8 rich training modules taught over three days that give you a structure to create powerful coaching sessions that facilitate real change, "aha" moments, accountability and get meaningful results every time you coach. You will quickly develop the confidence and knowledge to coach clients, team members, staff and others to the results they need in the face of their biggest challenges and opportunities. At CTI, we give you the structure and tools to facilitate powerful shifts and transformation, whether you are a full-time coach, leader, manager, psychologist or counselor, educator, consultant or a professional seeking a new skill set.
ICF Certification:

Price: 1495 US Dollars
Length: 3 days
Hours of Instruction: 24 hours