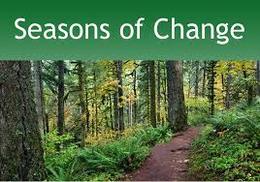 Transition Dynamics Enterprises Inc.
If so, you are embarking on a journey through the Seasons of Change. When you know where you are on the Seasons Path, you'll have an easier time knowing what to do next, how to avoid time consuming detours, and how to support yourself through unsettling times of change.
If you work with clients in transitions, explore our training opportunities that will provide you with ways to support your clients through a variety of transitions.
Details

Visit Website

Address:

PO Box 354.

Contact:

Ms. Karin Marcus.
650.322.8661
carol@seasonsofchange.com
Programs
The Seasons of Change Training for Professionals: Level one and Two
Description: For Coaches, Therapists, Counselors and Other Professionals who Support Clients in Transition
Many transition models are very conceptual--clients get the concepts mentally, but they aren't able to integrate the ideas into their lives. The concepts, though useful frameworks, don't touch clients at a deep, soulful place. As a result they don't become an integral part of your clients' approach to life.
The Seasons of Change is a rich, multi-faceted nature-based metaphor that provides you and your clients with a natural way to approach life changes. Nature has developed a wide range of responses to the ever-changing seasons. These responses provide a rich foundation of knowledge, inspiration, hope, and direction to those in transition.
Each season (or phase) of the transition process has its own signs, actions, and detours. This information gives you a map you can share with your clients to show them the way through their transition. The visually memorable nature metaphors associated with each season are simple, powerful tools that give clients constant support and guidance through difficult times.
The Seasons of Change model is useful whether your clients have entered their transition by choice or by force, whether the transition was anticipated or came as a complete surprise. By using this model in your work, you give your clients hope--helping them envision where they've been, where they are, and where they are going.
ICF Certification:

Price:
Length: 8 days
Hours of Instruction: 10 hours