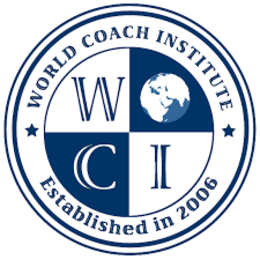 World Coaching Institute
World Coach Institute (WCI) was founded in 2006 on the basic premise that we could do better, having experienced training at several other top institutions, and that we could also show our students how to actually succeed in the coaching industry once they receive their certification. We teach foundational and advanced coaching skills covering the ICF (International Coach Federation) & BCC (Board Certified Coach) Core Competencies in addition to coach marketing and business development skills. The 80/20 rule states that 20 percent of people make 80 percent of the money. We ensure that our graduates have an opportunity to fall in the desired 20 percent. Our foundational teleclasses all contain 60 ICF ACSTH credit hours and the option to enroll in an additional 12-48 hours of niche study which can be applied toward any ICF credential application via the Portfolio Path, if desired. Our foundational Certified Professional Coach Teleclass also earns our students 82 CCE approved credit hours toward the BCC Credential. We also offer self-study options for these same courses. We currently offer the following coach certification courses:

Certified Professional Coach (CPC)
Certified Life Coach (CLC)
Certified Wellness Coach (CWC)
Certified Career Coach (CCC)
Certified Relationship Coach (CRC)
Certified Addiction Coach (CAC)
Certified Youth, Parent & Family Coach (YPF)
Certified Spiritual Coach (CSC)
Certified Executive Coach (CEC)
Certified Business Coach (CBC)
Certified Marketing Coach (CMAC)
Certified Christian Coach (CCRC)
Our students may enroll in the Professional Coach Certification as well as Niche Coach Certification(s) to start. Graduates of any program may add on additional niche certification studies at a much reduced rate any time.
We also offer our advanced Certified Coach Master Class (CCMC) for coaches with a desire to take their coaching and career to the next level and learn group coaching, laser coaching and deep coaching.
Please visit www.worldcoachinstitute.com for information including new program initiatives such as advanced niche teleclass additions coming soon!
Details

Visit Website

Address:

World Coach Institute Inc. 433 Plaza Real Ste 275 Boca Raton FL 33432

Contact:

Ally Wieser Hernandez
1-877-633-5082
info@worldcoachinstitute.com
Programs
Certified Professional Coach (CPC) Teleclass Coach Training Course
Description: WCI's Certified Professional Coach training program gives you the necessary foundation to coach with a 100 percent success rate. Through this coaching course you learn how to apply WCI's Proven Methodology with confidence, generate business and maintain long-term client relationships. Our CPC training is included in all of our foundational coaching courses.
We offer two great ways to obtain your professional coaching certification. You can take advantage of our interactive Certified Professional Coach Teleclass or our Certified Professional Coach Self Study Course, our online coach training option.
ICF Certification:

Price: 2347 US Dollars
Length: 56 days
Hours of Instruction: 60 hours