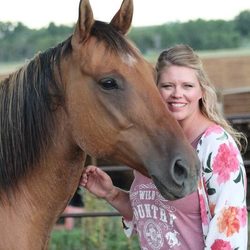 Abby Moreland

Billings, Montana
Life Coach, Leadership Coach, Relationship Coach
Habit Finder Coach, Certified Gottman Leader, NLP Master Practitioner
I empower women to realize their intrinsic value, unlock immeasurable potential, and step into the life of fulfillment and freedom they deserve in their families, businesses, and relationships.
About Me
Hi! I'm Abby Moreland. I was raised in Wyoming, at the base of the Big Horn Mountains and now call a beautiful, sprawling ranch in Montana my home. The gift of my surroundings allowed me to become the authentic leader I am today, sharing the gifts of time, freedom, and space with others.
I believe that the primary step to create true joy is to shift your energetic patterns of thinking.
I am a certified coach that specializes in shifts in habits of thought as well as Neuro-Linguistic Programming (NLP). I was mentored by the Og Mandino Leadership Institute through a transformative program that provides the ultimate foundation to create shifts in how we show up in the world. From there, I added certifications from the Gottman Institute to provide tools to strengthen marriages as well as NLP practices to allow for guidance to dig deeper into the anchors that truly hold us back.
I am the Owner and Head Facilitator at Cottonwood Equine Coaching. At Cottonwood, we're passionate about making a lasting, tangible impact on people's lives. We partner with horses to identify each individual's value, cultivate their relationship skills, and release them to greater authenticity in a safe, inspirational environment.
I am available for both in-person, one-on-one coaching at our ranch and equine center in Joliet, MT as well as digital coaching for large and small groups and individuals.
Let's set up a time to speak one-on-one and discuss your expectations and goals and determine if we are the right fit for each other. I look forward to hearing from you!
Reviews
3 reviews (5.0)
Participating in Cottonwood Equine Coaching is such an awakening experience. You learn new ways to tackle problems and over come obsstacles and reflect on yourself.

Nora Grosse
I would have never thought of making a horse a team member but I am glad these ladies did. Learnign how to work with someone who doesn't think like you do, or understand the same language as you is definitely an activity in finding out how flexible and adaptible you are. I have learned a lot about my own personality and how I need to be mroe flexible.

Cassie Eldridge
My time spent with Abby Moreland and the horses has allowed me to grow in ways I didnt know I was able to grown in. Abby brought such an authentic care to me that it allowed me to look into myself and start to learn my authentic self.

Danielle Thorson