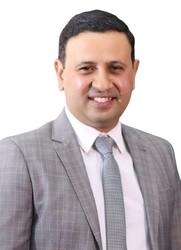 Abdulla Mahmood

Dubai, Dubai
Executive Coach, Business Coach, Leadership Coach
BComm, MBA, NLP Practitioner, ACC
I coach stressed out business executives to improve strategies, multi-tasking, communication, behavioral change and achieve career goals with work-life balance through my NLP-based 3E Coaching methods
About Me
Questions are essential parts of life and sometimes they lead us to doubts, performance anxiety, anger, emotional-meltdowns, negative thoughts, and choices leading to feeling stuck and caught at a crossroad of your professional and personal lives.
The good news is that there are always answers to these questions that lead to resources and empowered outcomes. Through my NLP-based 3E coaching sessions, you will ENGANGE with your inner self, EDUCATE yourself clearly on pros and cons of your issues and eventually EMPOWER yourself with responsibility to move you forward effectively and create positive results with a clear roadmap.
WHO will find value in 3E coaching?
Corporate and business executives who are under constant pressure to achieve their KPIs or financial results and want to sort their professional clutter to meet their goals without losing their optimum work-life balance.
WHAT is 3E coaching useful for?
· Performance Improvement & Career Advancement
· Strategic Business Planning, Budgeting & Finance Management
· Sales, Marketing and Social Media Strategies
· Motivation and Behavioral Change
· Stress and Time Management
· Work-Life Balance Goals
· Working Couple Relationships
HOW will the positive change happen?
As your coach, I will be utilizing proven effective Coaching techniques and NLP tools to identify behavioral patterns that can be improvised or resolved to reach your desired outcome. Additionally by tapping into my vast corporate experience I can ask the critical questions that become the springboard for the change you want.
I am an internationally certified NLP Professional Coach & Practitioner, accredited by ICF and ANLP. I am an MBA graduate with 22 years of corporate experience in mentoring, coaching and training executives within B2B and B2C industries in EMEA, APAC and US markets.
Honored as Asia's Most Influential CMO- 2015 by US-based CMO Council, I have played key leadership roles in MNCs, public-listed and family owned entities.
Reviews
9 reviews (5.0)
My experience with Mr. Abdulla Mahmood as a personal and professional development coach has been transformative. His expertise, personalized approach, unwavering support, and genuine passion for empowering others make him an exceptional coach. If you are seeking a truly authentic and life-changing coaching experience, I wholeheartedly recommend Mr. Mahmood.

Salman Khan
I am having an excellent experience with Abdulla. In a short period of time, he has helped me to understand and make improvements on some personal areas of my life I wanted to address. He is friendly, knowledgeable and a great listener.

Alastair Tocher
Abdulla is an amazing life coach. He is very empathetic and professional. My sessions with him helped me truly move forward with life. He has a versatile tool box and approach that can help anyone gain clarity, make great change, and create next steps while having a supportive ear by your side.

Deloitte Pereira
Abdulla spent considerable amount of his professional time with my cousin & able to understanding him & prescribe a tailor made set of practices that includes a self evaluation of his behaviour & it consequences for himself & the people around him. I could see a visible difference from the first time Abdulla interaction with his my cousin. Everyone in the family also commented on his changed attitude towards positivity & a willingness to accept criticism & mistakes. Over a sustained period of time, Abdulla was able to make a positive impact on my cousin & has he has been able to overcome his harmful habits. A big Thank you to Abdulla for his compassionate & yet logical approach to helping my cousin in overcoming his weakness & putting him on a path to self conscious living habits.

Isaac Williams
I started coaching with Abdulla when I was stuck with midlife career choices and not sure what step should I take as I was not happy with some changes in the office. The covid situation also made it difficult with decision making. These continuous thoughts started to affect sleep and created anxiety. Abdulla's patience in listening to my issues and slowly helping to look at my options from different point of view started to help me take decisions in the right direction. I started to control my negative thoughts and felt more positive. than before. The best part of coaching with Abdulla is the calming influence he has on you.

Kamal
Excellent and Fantastic Sessions..Real Quality content and Mentorship instead of these Fake Gurus..Was Indeed Able to Discover My Trueself After Hitting the Rockbottom in My Life..I Had lost Myself Totally and was down with Very Low Self Esteem, Confidence and Morale until Untill I found Abdullah Like a Blessing..I still continue to Keep.in Touch with Him and Take His Expertise and Valuable Support Whenever I require..

Abid
Coaching with Mr. Abdulla has been useful to me to strike a work life balance. His style of questioning and probing helped me realize, understand and rearrange my priorities on professional and personal fronts. My sessions with him were really instrumental in being able to work out my plans for future.

Farjad Sattar
Being coached by Abdulla has been a life-changing experience as I started to understand more about myself. I realized how I can deal with my professional and personal issues better.

Hassan Z
Abdulla has been a great coach who has helped me develop into well-rounded manager by improving my leadership, communication and people management skills. I saw the difference in my confidence when I participate in senior management meetings

Christal Aranha