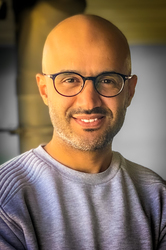 AbdulRahman Alharbi

Al Khubar, Ash Sharqiyah
Executive Coach, Career Coach, Business Coach
Do you feel stuck? Do you face a challenge or an opportunity? Are you curious to explore your potential for growth or change? I offer your an individual partnership to support your journey!
About Me
The Coaching Partner is a partnership platform. Founded by AbdulRahman Alharbi; Abdul is a HR professional, has around 12 years of experience. Worked in semi-government and private sectors, in local and global companies, this offered him the opportunity to work with people from different cultural backgrounds.
The WHAT
We offer PARTNERSHIP; specializing in three areas:
Executive Coaching
Business Coaching
Career Coaching
The WHO
You are…
Going through life transition i.e. a job, a project or an experience
Coming to the end of a chapter in life
Feeling stuck or stagnant
Starting something new
Facing significant challenge/ opportunities
You WANT to…
Clarify what you need/ want to accomplish
Create a plan for how to get there
Check progress
Celebrate success
The HOW
REFLECT
Reflect on your life purpose, reflect on your values, and your goals. Explore your Wheel of Life, reflect on your goals. Once you're clear, reflect on your expectations out of coaching.
INTERVIEW
Yes, interview couple of coaches before you make up your mind. Ask for a discovery call, find out more about the coach's qualifications and experience. More importantly, chemistry must be there. If not, it will most probably be an awkward relationship.
Reviews
4 reviews (1 verified) (5.0)
Anonymous
My coaching experience with AbdulRahman Alharbi was extremely effective with much to learn about myself in my current professional environment. My positive experience begins with his punctuality and ability to set a comfortable safe environment to discuss the areas of interest for optimal results. Additionally, he is a great listener with an excellent ability to lay down questions that helped me unfold the complexity of the situations in hand. Further, he has been extremely organized with the process of the conducting our sessions, which helps with addressing all related matters and makes the session easier to follow. Moreover, Abdulrahman has also demonstrated substantial emotional intelligence during the sessions that had yielded great results in my experience.

Rebal Ismail
Coach Abdurahman Alharbi is a very professional coach and excellent listener. I was able to think clearly in his session and create the outcomes I was looking for in a smooth and easy way. His questions helped me rethink some outdated beliefs and put in place more useful ones. Good experience!!

Khadija Ahmed
I have been having sessions with Abdulrahman for the last 4 monthes. I can confidently say that, he is one of the best coaches I have worked with. He is very professional and has a natural talent. I have progressed on my career path a lot since I started working with him. I have discovered my strengthes, have taken steps for my goals, have moved beyond my fears, have destressified my professional life, have built a self-care routine that honours me - all through sessions with him. I enjoy my sessions with him and I can strongly recommend him to everyone

Seljan