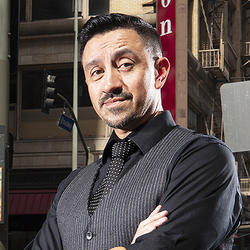 Adam Mock

Aliso Viejo, California
Leadership Coach, Life Coach, Relationship Coach
Leadership Coaching Specialist, DiSC Communication Assessments, EQi Emotional Intelligence Assessments, PeopleBest Assessments
I coach people who need help digging for the life they forgot they wanted. The person they always knew they could be. I help you rescue your dreams so you can transform your reality.
About Me
I love seeing people light up!
In their business, in their relationships, and in their overall lives.
There's just no better feeling than to see someone empowered to live vibrantly and transform the world around them.
As a registered Leadership Coaching Specialist and professional artist of over 20 years I light up taking a creative approach to helping each of my clients rescue their dreams.
Over the years my experience working with businesses and individuals has shown me that the same coaching tools and insights that help companies move forward, can also help anyone rescue the life they forgot they wanted.
Because leadership is not about what you do for a living, but who you are for life. So, I believe in helping my clients understand as much about themselves as possible, so they can live their lives at full choice and feel empowered to live authentically and go after what they want.
Life is always teaching us. And I'm on a mission to help every person I can uncover those lessons.
If you'd like to know more about my personal story and see some endorsements, take a trip over to my website. I'd love to have you stop by!
Reviews
4 reviews (5.0)
Adam is amazing. With his guidance and mentorship he helped me make some important choices about my long term career goals. Adam is a clear, concise and positive coach and leader. I strongly recommend him for anyone looking for valuable coaching and mentorship.

Christopher Waterman
Working with Adam was a wonderful experience. He was inspiring and insightful in his guidance. He communicated with me clearly and openly all the while taking into consideration my own emotional position on some critical matters. His disposition is positive and enthusiastic. I felt a trusting rapport almost immediately which led to meaningful and supportive discussions. I would gladly work with Adam again.

Jana Smith
Adam Mock embodies the spirit of coach more than anyone Ive ever worked with. He truly SEES the potential in others and calls it forward in every conversation. If youre considering engaging Adam in any capacity I just say do it!! future you will thank you!

Ben Thomas
In one moment, I found myself out of a job and realized that like a boat set adrift, I had lost control and the direction of my life. I was struggling to get interviews and when I would, would not succeed. What could have been a very frightening time, turned into a time of positivity and change when I met Adam Mock. Adam challenged the foundations of my thought process, getting me to see things from a perspective that was completely outside myself. He allowed me to see the value of myself through my own eyes, by merely asking the right, targeted questions. By the end of of our time together, I had multiple job interviews, one of which I landed and am still at to this day. I attribute my success to the potential that was buried within me that Adam helped to unlock. Adam's expertise is inspiring and his passion to see people transformed is unparalleled. I consider it in honor that I got to see his process in action.

Robert Latko