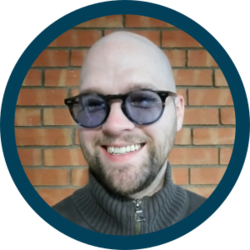 Adam Owens

Fort Worth, Texas
Business Coach, Team Coach, Leadership Coach
TTISI TriMetrix HD Certified, HCI Strategic HR Leadership, HCI Human Capital Strategist, HCI Strategic Workforce Planning
Are you struggling to compete in this difficult labor market? I help my clients master the market by tapping into the power of intrinsic motivation and organizational culture.
About Me
Do you feel that you aren't bringing your whole self to work? Have you lost, or potentially never found a sense of passion and mastery in your day-to-day?
Are you a manager who is struggling to attract the best people to your team? Do you find yourself spending too much time dealing with simple misunderstandings and miscommunications between coworkers?
Has your organization struggled to find good recruits in the current labor market? Does it feel like your staff is burning themselves out, or is simply disengaged from work?
All too often, modern organizations rely on outdated management and business models that were developed over 100 years ago for an industrial society. This causes tension in the workplace, and serves to demotivate employees. The good news is that the last 20 years have brought more advances in understanding organizational psychology and the workings of the human mind than the previous 200 combined. It doesn't have to be this way anymore!
Good culture is contagious, and starts with self-discovery and intentional work at the individual level. Hopefully organizations work together on this, but one team or even individual can make an outsized positive impact.
A husband and father of three, Adam is accustomed to spending his time patiently listening. He pairs a strong desire for a more objective and compassionate world with a constantly expanding study of philosophy and the behavioral sciences. You can expect that a conversation with Adam will be intentional, and that he will help you explore hidden pathways to helpful philosophies, models, and ideas. With training in personality profiling, engineering, and philosophy, as well as more than a decade spent in human resources, Adam has developed a passion for optimizing workplace culture. Adam founded Clearing Culture to serve as a platform for helping others achieve the lasting happiness that comes from living into your purpose and working at a fantastic company.
Are you ready to work happier?
Reviews
2 reviews (5.0)
I have found myself in a place of being uncertain about what I really want for my future or even if there was hope for change once I knew those wants. Adam did a fantastic job of helping me to narrow down what my true goals really are, while also providing me manageable techniques for being able to accomplish those goals. Highly recommended.

Steve Baldwin
In just one hour, Adam and I had a productive, inspiring conversation. He helped me think through the complexities of my organization and gave me concrete ideas to help me break through my problem. His outsider perspective was quite valuable and helped me approach my issue from a different direction. Instead of dreading and avoiding this project, I'm already implementing our ideas and making progress!

Hannah Ball