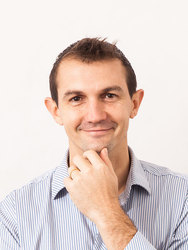 Adrian James Cahill

Sydney, New South Wales
Executive Coach, Life Coach, Relationship Coach
Trainer NLP, Hogan Tools, MYBTI
So busy with work and life that you've lost your passion? I cut through the fog to show you the vision and power inside you that will give you economic and life success, via phone or skype anywhere.
Details

Sydney, New South Wales
Hourly Rate: $170 to $250 Australian Dollars
Gender: Male
About Me
Maybe you're so busy working for someone else that you've forgotten your passion. Maybe you're so burdened by work & relationships that life feels heavy. Maybe you struggle to find ambition, any ambition, in a sea of boring day to day life & tiring chores.
You weren't like this before. Once you were so full of energy & excitement that you didn't know what to do! You had ideas, dreams, desires. Where'd they all go?
Fortunately, they're still around; Those keys to exciting & successful careers, fulfilling relationships, & enriching satisfaction are all about in this very moment.
I'm excited to help people who want to do BETTER get there. You have it all within you, & I know just how to pull it out & make it stick.
I use a 3-step process to take you from down & out to happy, ambitious, & motivated.
You'll gain powerful confidence, total clarity, & a relaxed calmness.
You'll learn how you truly feel about things and when to say the right thing at the right
time. You'll learn how to use Yes and No in a way that will transition you from fatigued to bursting with excitement.
Most of all, you'll be motivated. The new day can & will bring a sense of a great future, of things to see and do and learn in the most joyous of ways. And with this clarity will come success; Leadership comes naturally, economic vision & fortitude flow, & calm patience will become your friend.
You'll learn how to apply this process & techniques, not just for yourself but for others to enhance their lives & bring calmness wherever you go.
My name is Adrian Cahill, I'm a Life/Executive Coach. Husband & father of 2. Financially free for over 10 years.
I can take you to greater heights & greater happiness.
Let's talk, & if we're the great match you want I can give you the comfort, security, & trusting environment that will create the changes you want to see. Then you can live the life you want: The happy life.
I often miss messages here, please contact via Linkedin or Google: Adrian Cahill
Reviews
10 reviews (5.0)
??????????????????????Adrian??????????????????????????????????????????????????? Adrian is a professional life coach. He have the ability to guide you to find the problem and solution by yourself. He is not going to give you a fish for a day, but teaching you fishing skills which you can use to feed yourself for a lifetime.

Xiaofang Su, Project Manager at Idea Matchmaker
I just had 4 phone sessions with Adrian to get through what I thought was a HUGE challenge. Together we turned it around. It was a much better result than I expected. Also from what a coach can achieve via phone and so quick. The speaking is clear and effective and his methods certainly work. If you want a coach and don't have much time going out, use phone calling, it may just be right for you. Dennis from Hong Kong 29/10/2015

Dennis, Strategic Engineer, Hong Kong
Adrian helped me get my goals and order and he made sure that I had some Ideas on how to get there. Since I have seen Adrian many things in my work environment and personal life has changed for the good and it is getting better each day. He can be a great asset to each business if you are stuck and not sure to which direction to go to.

Maya Roesch, Teacher/Entrepreneur, South Africa
I've had the privilege of meeting Adrian and having coaching sessions with him for a few months. From lesson one he gave facilitated me in finding my goals and helped me to set targets to achieve what I wanted to. I recommend anyone to see Adrian if they want to make a real difference to their career or personal life.

Nate Dudhill, UK-USA Real Estate Investment, London
Adrian is an excellent coach. He's focused on helping you achieve your goals, listening closely and asking directed questions. For me, he helped me with a key career vision rut, so that I could create a clearer trajectory for the long-term and actionable steps in the short-term. He has great analogies and stories to make a complex problem more understandable and approachable.

K.V.Nest, Content Marketing Manager at FOREO? Digital Marketing, Shanghai
The saying goes, "Learn from those who have done it". When it comes to Adrian it's all experience. Being able to leave his full time job and travel for over 4 years before the age of 28 is an accomplishment most people dream of at the age of 58. With integrity, experience and a creative mindset Adrian is a person you must speak to get any tips with entrepreneurship, being self employed or even travel.

Brian Gordon Peters, Commercial & Residential Property Advisor, Adelaide
I've been working with Adrian as a coach since December 2013. I have found insights obtained in working with Adrian to be extremely valuable. I can say that I've had a measurable and a considerable positive impact in a number of areas of my life. Diversity of his experience, knowledge and expertise also enable meaningful discussions around specifics and hence the ability to develop solutions. I can highly recommend Adrian to help anyone reach their potential.

Vitali Belokoskov, Renewable & Strategy Engineer at Ergon Energy
If you have ever looked to take your personal life, business life or even employee's to the next level then I can't recommend Adrian enough. He has the amazingly rare ability to work with individuals one on one all the way up to international businesses and create 10x the amount of value they could ever expect (I can attest for this with my own results). He is a master in his trade and goes the extra mile to get you results. Thanks for all the help you have given to myself and many others.

Victor Ahipene, Podcast Educator and Coach to Young Entrepreneurs
Adrian has an outstanding reputation as a professional coach and speaker. I've seen his results. They speak for themselves. For anyone considering coaching, just call him up and speak with him. I also found him to be a great volunteer in the Shanghai community

Thomas Shubbuck, Director of International Studies,
Hi Adrian! Just wanna pop a note so say thank you for the help! I feel much beter now and I' finally landing a in a job I like. Thanks toooooons for taking that time out of your busy schedule. It made all the difference!Cheers. W 2/12/15

Realesate Broker, Shanghai China
The Smart Way To Find A Coach

1 Describe Your Goals

2 Get Matched

3 Free Consultations
Find My Ideal Coach Now