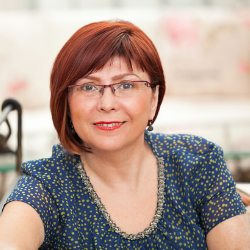 Adriana Radu

Boston, Massachusetts
Leadership Coach, Business Coach, Career Coach
Noble Manhattan Coaching School PCC
My clients are ambitious professionals and business leaders transitioning to the next level of their potential. I empower them to create desired success and results through my coaching programs.
Details

Boston, Massachusetts 02122
+18578163036
Send Message
Hourly Rate: $100 to $165 US Dollars
Gender: Female
About Me
My clients are senior professionals, managers or entrepreneurs. They are all going through a transition phase in their career or business. Most of them feel they are at a major crossroad between reaching performance and doing something meaningful for them.
My Career Program takes 8 sessions and helps the client clarify the career path, build the relevant CV and Linkedin profile and create the job search strategy. We also work on interview preparation.
The leadership coaching program takes 3-6 months. It starts with clarifying the client's objectives and then mission and values. Those are shaping the path to her solutions on addressing professional and personal challenges. During this process she builds self confidence to create boundaries, communicate assertively, feels empowered to make her own decisions. At the end of the program she develops her own system to sustain professional performance and a mechanism to set up achievable goals aligned with her personal priorities.
When working with entrepreneurs the main challenge is to transition from one man show, to building a scalable business which require business and leadership skills and also lead a balanced life. This type of program starts with defining the owner's vision and mission for the business, the WHY in this endeavor. We implement management routines and tackle limiting beliefs, self confidence issues and prioritization issues, acting as barriers for the project. At the end of the program the client has a functional organization, a strategy and an action plan for 3-5 years . Also she develops a mechanism to recognize the most important issues she can address, leaving aside those she cannot control.
Following 15 years as HR director in multinationals, I started my coaching and HR consultancy practice 6 years ago after getting trained with Noble Manhattan School of Coaching. In my coaching programs I offer international assessments such as DISC, 16 Types or Strengths VIA.
Reviews
3 reviews (5.0)
Being a department manager as a woman is sometimes extremely demanding. Career and family requirements allow little room for me as a person. Since the Covid pandemic it has been even more challenging. The whole activity was done remote and my team started to feel disingaged. Business somehow slowed down in the garment industry and both clients and the team felt insecure. I felt the pressure of having a performant team and also have balance in my life. I worked with Adriana for 6 months. During this period I managed to make a plan to keep up my teams spirits, turning challenges into opportunities. I transformed my team meetings into creative business conversations and people focused on generating new solutions rather than complaining about clients slowing down the business. The whole team mood has changed. I managed to address online meeting management differently. Adriana introduced the whole team to a new online development platform which helped us understand our personality traits and how we should deal with each other in a productive way. Adriana gave me feedback on my meeting management. It helped me set up boundaries, delegate more, create a trustworthy environment where people could come with solutions. Changing my leadership style helped me stay focused on the business objectives and KPI. Also, by better organizing my time I managed to spent more quality time with my family and took time off just for myself. At the end I can say through the leadership coaching program I managed to get a more engaged team with better business results. I have to thank Adriana for making me aware I should never forget to lead my life by my own values so I can live a meaningful life. Mary Clontea Sales departament Manager

Mariana Clontea
I had the pleasure of working with Adriana Radu through her Career Preparation and Career Transition Program. Working with her has been extremely helpful for me in terms of reaching knowledge and awareness on having a healthy and growing mindset through professional clarifications, advises and guidance in order to get my next dream job. I knew I needed help to make a major step-up to my next position in my direction of interest. After days of searching and because I knew that I want to make the right decision in choosing my next new position, I thought, this time, it is the best time to consult a coach highly specialized in this field. All that have been done I brought my thought to find the right coach in order to develop and widen my approach in finding my new career position. I choose Adriana Radu because of her large professional experience and knowledge, the maturity and the openness demonstrated. She immediately advised and showed me how to clarify myself in choosing the new direction and how to fully use and transfer my competencies accumulated for having the courage to approach the positions of big interest for me. In order to help me in the developing process she trained me how to adopt a growth and structured mindset in presenting me, my profile and my skills through my curriculum vitae and also she coached me through the interview process. Making this career move has a major importance for me and is a key moment in my life. Adriana helped and encouraged me to stay on track and focused on every move. Thanks to Adriana Radu, I've gained more confidence in my expertise and talents. I highly recommend her to anyone looking to upgrade their careers and find the professional and right place for them to grow, be successful and fulfilled.

Lacramioara Alice Buga Benea, Head of Domestic Transactions
I started working with Adriana when my steel trading business wasnt growing the way I expected. Proving initially successful, I had to hire more people. It seemed the logical thing to do and yet the results were not there. Moreover I started to feel more and more burdened as this is a complex sector and was afraid to let anyone assume responsibility. My day started at 6.30 am and would not end till 20.00 with no time for lunch or going to the gym which I really enjoyed in the past. Overall I started wondering if I still want to carry on since the business seemed to take over my private life. Adriana helped me clarify very quickly where I want to take the business and identify the resources needed. In the process I managed to set objectives, boundaries, say no and let my team assume responsibilities. She supported the program with DISC and 16 types assessments. Thus I became aware that I do not feel comfortable to let my team do things mostly because I did not have a business overview myself and I tend to be a perfectionist. At the end of the program I managed to have a clear strategy for the next three years, an organizational structure, processes & routines to manage people. Adrianas business and management experience really helped me understand my role as a General Manager. Most important I learned to feel comfortable saying No and What do you think its the best solution. As a result I am experiencing a 25% growth in my projected revenues, the team is engaged and repeat business has grown by 10%. Most important following the Business Accelerator program I feel more self-confident and I get to the gym at least twice a week. It really made me enjoy my life again! Thanks Adriana!

Anonymous