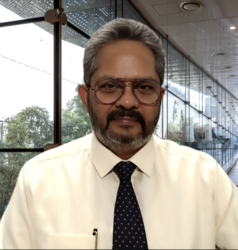 AJAY RAMAKRISHNAN

Bangalore, Karnataka
Executive Coach, Leadership Coach, Career Coach
MARSHALL GOLDSMITH CERTIFIED EXECUTIVE & TEAM COACH, , CERTIFIED MASTER MENTOR (CAREERS), CERTIFIED TRANSFORMATION & SUCCESS COACH
Are you a leader seeking to achieve measurable growth & reach the next level? OR, Maybe, you are a student or a professional, looking to create a rewarding career & future! Lets get you what you want.
Details

Bangalore, Karnataka
+91 962070001, +918197066001
Send Message
Visit Website
Hourly Rate: $200 to $300 US Dollars
Gender: Male
About Me
MARSHALL GOLDSMITH CERTIFIED EXECUTIVE COACH & GLOBAL LEADER ASSESSMENT-CERTIFIED PROFESSIONAL
Growth, progress & evolution is your right! As a MARSHALL GOLDSMITH CERTIFIED EXECUTIVE & TEAM COACH, I partner with Executives, Businesses & Teams to create measurable GROWTH! Allow me to coach you for peak performances as a leader or to grow your own businesses.
As a former Colonel in the Army, 23 years of COMBAT LEADERSHIP (Including flying helicopters in combat), has honed me to understand how leadership is built. Applying my experiences to corporate life, I have facilitated leadership, strategy & team building for MNCs like Microsoft, Accenture, Daimler, ITC, DELL, CISCO, COGNIZANT, etc. These experiences make me ideally suited to EMPOWER change for you. With an MBA (Human Resources & Operations Management) and a Masters in Psychology, adding to my skills, I am able to appreciate businesses, processes & challenges that are part of corporate life & address your needs one hundred percent! The processes that are part of being a MARSHALL GOLDSMITH CERTIFIED EXECUTIVE COACH, provide the GOLD STANDARD in the world of coaching.
MASTER MENTOR (CAREER DEVELOPMENT)
Careers are the foundation of happy lives! I work with you to find your STRENGTHS, ABILITIES & INTERESTS and match them to CAREERS that are optimised for you. Lets find your PASSION and link your work to it!
Find the best fit – find happiness!
LIFE, RESILIENCE & SUCCESS COACH
I believe we all deserve happy & fulfilled lives –You deserve a happy life!
As a family man, I deeply appreciate the challenges that are part of our lives. I am a parent too. I salute single parents & understand your challenges. I too have handled the illnesses of loved ones. I know the pain, sacrifices & emotions that is there. Whether your challenges are occupational, personal or relationship based - we will find solutions together.
I WILL WALK WITH YOU!
Reviews
12 reviews (5.0)
I can easily say working with coach Ajay Ramakrishnan has considerably changed my life for the better. The introductory session with Ajay itself was eye-opening into the world of coaching and how having a coach can affect a person. No wonder, all the high performers in the world have coaches or they become high performers because they have coaches. With his deep understanding of human psychology, vast experience in leadership roles in the army, and varied forms of coaching, Ajay possesses a unique set of skills that has helped me to uncover some of my limiting beliefs, inspired me to be my best self and pushed me when I got complacent. He provided some simple and practical tools and tips in each session that I could apply immediately and proved to be very effective. Moreover, Ajay has a passion to see his clients succeed which is evident in the way he shows up for each session and is what makes him a great coach! I am immensely grateful to have had Ajay Ramakrishnan as my coach and mentor! I would highly recommend him to anyone seeking to go to the next level in their life or get out of a rut.

Sanjay Ratnakar
A few months back when I was contemplating change in my way of thinking and controlling my life I decided to take up coaching with Mr Ajay Ramakrishnan. I am very happy to tell that Mr Ajay has been a sort of messiah like figure who has helped me understand the pitfalls and drawbacks in my thought process and how to work around them. His keen observation skills and intricate analysis during sessions helped me understand arcane principles of my psyche. His willingness to be available and pitch in during any time of the day gave me added comfort and confidence in him and his methods . My coaching journey has been enlightening and hope to continue working with Mr Ajay in the future.

Mahesh Balakrishnan
Ajay is an extremely professional, dedicated and focused individual. He had helped me in achieving all the goals that I had set out for myself as part of the coaching engagement. His gentle demeanor, deep insight, military background and extensive experience of over three decades, all leveraged to create an impressive coaching engagement that achieves results. I would highly recommend him for any coaching engagements.

Virendra Gulia
I am Dr. Rudresh Jarecha, and I work as a senior medical director at Parexel Informatics, SBU of Parexel International. I had a chance to hear about Colonel Ajay from a mutual friend. As I grew in my organization, I moved from India to the USA, realized that I needed to evolve from an APAC leader to the global as well. I contacted Colonel Ajay. From the first foundation session till now, his unique ways of connecting with me at multiple levels are profound. It's adding tremendous value at every step and given me thought-provoking insights. This process helped me become a better and effective leader every day, both in my personal life and work life. I strongly recommend Colonel Ajay for the executive team's leadership journey.

Dr. Rudresh Jarecha
From April 2016 to Dec 2018 , I had the opportunity to engage with Ajay and benefit from his Executive coaching, which I signed up for in my personal capacity. I was part of the delivery team of an MNC Bank as a Vice President for the India Delivery Center . The focussed engagement helped me strengthen my leadership skills around -Strategic thinking. -Influencing skills. -partnership & collaboration. -instant decision making in moments of crisis. -role model leadership. I was able to draw upon Ajay's rich leadership experience of more than 2 decades in the armed forces and subsequent corporate world experience to further enhance my leadership skills to manage teams as large as 1400 employees. I had signed up for this development engagement in my personal capacity & this was one of the enablers in my overall skill development and also contributed to career progression.

Roop Kumar Ramnani
I was lucky to meet and know Mr Ajay who is a wonderful person and a great coach. He(Mr Ajay)has helped my son grow from inside and out.My son (named Baken ) is now more focused is progressing day by day. This is all Thanks to Mr Ajay n his mentoship program. My prayers and best wishes to Mr Ajay .

Tobi Riba
Eye opening and brilliant

Reema Saraf
"Recommended review: I needed critical career advice, guidance and support for my son. I contacted Coach Ajay Ramakrishnan and he responded promptly and positively. His extremely friendly approach and deep knowledge of human nature, immediately created a bond and rapport with my son. As a result, my son opened up his viewpoints, doubts and soon achieved crystal clarity for his career. We are extremely grateful to Coach Ajay Ramakrishnan for his guidance, very flexible coaching sessions and his hands on approach to leave no stone unturned for the betterment of his client. SIX STARS OUT OF SIX SIR! THANK YOU! SO MUCH Pankaj Sabharwal, Director Sabharwal Associates. Email: pankaj101273@yahoo.com"

Pankaj Sabharwal
Dear Coach Ajay, I would like to take this opportunity to thank you from the bottom of my heart for helping me out when I was going through a rough patch in my life. My vision was all shaken, my forward path was all unclear. I was suffering from lack of confidence and didnt know how to take even one step forward. Thank you for helping me find my purpose in life, you are the best coach ever. Thanks for showing me the ropes to handle critical challenges without getting bogged down under pressure. Your patience and perseverance helped me to move ahead. The strongest motivators are not monetary rewards or benefits but appreciation and recognition. You motivated me to believe in myself and reterating time and again that I am unique and nothing is wrong with me. I continue to find benefits from your coaching. Thank you for teaching me to be ME in life. Words are not enough to show my thankfulness for helping me. I would recommend all my friends and family Coach Ajay Ramakrishnan for being the best. He is focused, appreciative , motivator and a great listener. His in-depth knowledge of human psychology is amazing. Thanks again. Regards Rajshree Dayal HR head (Vice President) NMSEZ Pvt Ltd. Rajshree.dayal@gmail.com

Rajshree Dayal
I have had the opportunity of being coached by Coach Ajay. He was instantly able to grasp my requirements and gently coached me to develop the most amazing vision statement for my organisation in several years. He also empowered me and my team by coaching us to lay down milestones to achieve our vision. Thank you Coach Ajay. Anish Shrivastava, Director - Talent Acquisition, Octacube Solutions LLP +91 88004 38989

Anish Shrivastava
Mr.Ajay Ramakrishnan is a wonderful coach. He really helps his mentees to reach their goals and dreams. He has the capability to achieve excellent results with minimal resources. Under his mentorship, I was able to make life-changing decisions. His ability to impart knowledge to others can help one realize their capabilities and strengths. He is a highly motivated professional and will not fail to bring the best out of his mentee.

Niharika G S
Awesome & brilliant - is what I would describe my experiences with Ajay. His uncanny ability to identify the crux of the issue has immensely helped me & the core members of my team to achieve & surpass set targets. We also jell better as a team and actually look forward to each work day in a better frame of mind than before! Thank you Ajay!

Harsh Kala, Head SCM, Jai S Systems, New Delhi