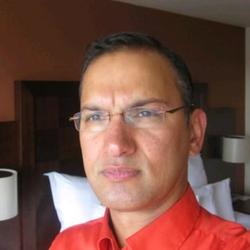 Al Sharma

Calgary, Alberta
Relationship Coach, Spirituality Coach, Business Coach
I coach adults who have a charge regarding their ex-partners. If you have challenges dealing with your ex and communicating effectively, I can help you heal, bring peace and MOVE ON in your journey.
About Me
I have had the privilege and joy of successfully coaching those facing divorce, separation and relationship issues, facilitating their recovery and self- growth and been witness to their amazing transformations, including my own through a deep understanding and knowledge gained through my journey. So many of us know and understandably feel overwhelmed by the pain of a break up, a divorce, a separation, have difficulties dealing with or communicating with an ex, struggle with single or co-parenting.
If you are feeling overwhelmed by the pain of a break up, having difficulty dealing with your ex, struggling with parenting, my mission and goal is to provide clarity, tools and guidance that will lead you through a deep healing process that embraces a multi-faceted approach for your path forward.
I provide and teach with empathy and compassion techniques of self-care, self-awareness and empowerment to enable you to find fulfilling self-love, better relationships and how best to manage your emotional capacities so that you can be there fully for yourself and the ones you love.
We all have gone through life's lessons, but you do not have to go through them alone. There is help and there is hope.
​No one has the power to go back in time and change the things that have already happened, but there is always tremendous power in the present moment to change the things that will happen now and in the future.
Reviews
2 reviews (5.0)
In July of 2020 I completed Al's Moving On program as I am separated from my wife of many years (decades) and proceeding with divorce. In my view, Al offers exceptional value in this program. Al's own experience gives him great credibility in this space.For me, there was power and catharsis in telling my story. It was also great to get feedback on exactly where I'm at in this journey and next steps to pursue. Also the validation that I'm not a bad person or a failure, and that there is a brilliant life on the other side, assuming you keep your eye on the prize and do the work. In my view, Al knows his stuff, listens well but asks great questions that raise awareness and creates choice for our thoughts. I like his further reading recommendations. He presents as a person who genuinely cares and is always respectful. I have no hesitation in recommending Al and his program Moving On.

Bill Todd
All divorces/ breakups are sad and mine was no exception. Even after 2 years of therapy, I was way too scared to see my ex. Thats when Als counseling truly helped me. He was able to decipher my emotions in such great depth -the solution and comfort he gave to me is invaluable. Although I needed someone to tell me exactly how I should behave and translate my feelings into assertive behavior such that I overcome my fears-I didnt know that and yet, Al did. I would recommend Als professional counseling to everyone.

Anjali