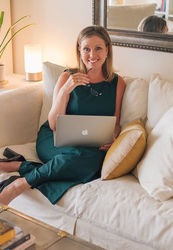 Alana Belik

Edmonton, Alberta
Life Coach
Clinical Hypnotherapy, RTT, Martha Beck Life Coaching
I help my clients arrive at clarity when they are stuck, get through transitional times with less suffering, let go of negative beliefs & habits, & achieve goals and dreams with specific action steps.
About Me
Some of the many successes that my clients have realized include: written and published books, changed careers, started businesses, found the right jobs, increased business, learned to manage money, finally learned how to not stress and worry all of the time, met their perfect partners, repaired relationships, released and kept weight off by means of overcoming negative beliefs and overcoming resistance to change (including clients whose starting points were morbidly obese), quit smoking, quit and/or managed drinking, learned to speak in public, and increased self confidence.
I have a client centred approach which means that I creatively custom tailor my sessions to suit each client. I use many coaching and therapeutic tools including hypnotherapy.
If we decide to work together, I will become your trusted confidant so you can talk in a safe environment, your therapist to support your healing, your sounding board to explore ideas, your mentor to help guide you and your cheerleader to celebrate your successes.
My coaching packages include unlimited email support.
I have a BA in Psychology, Women's Studies and Counselling Women from Athabasca University, Martha Beck Life Coaching Institute, Certified Clinical Hypnotherapist, CanFitPro Certification in Personal Training and CanFitPro Certification in Nutrition and Wellness Specialization, Interior Design from MacEwan University and I am a certified Basic Life Support Instructor. I have been coaching clients since 2006.
Reviews
26 reviews (5.0)
Dearest Alana, thank you so much for everything. It's helping tremendously. I just feel so great and all kinds of magic everyday. Too much to say here. Talk soon. :)

B.B, Calgary Albera
Thank you Alana. You have been a positive driving force for me to complete my goals. Thank you for seeing my potential and helping push me forward. My new chosen path feels true for me.

B.R., Edmonton, AB
Hi Alana! I hope you are doing well. I wanted to let you know I came across the job board you had me create last Feb. and I am so excited to say that my current job is everything that is on it! I wanted to thank you for helping me understand what I wanted and how to go about finding it...last week I gave a school presentation for 500 kids and loved ever minute of it! Whenever anyone asks me how I found this job I start with...well, I went to an amazing Life Coach.... So I just wanted to say thank you!

P.R, Edmonton Alberta
I just wanted to let you know that myself, my partner, my friend and my mother LOVED your seminar! So many fantastic things have actually been coming my way since the first seminar that I attended and I've been more in control of my thoughts and actions. Thank you Alana!!!

T. B., Edmonton, Alberta
I just had an amazing first date with a girl who fit all of my wishes! Thank you for guiding me through this and convincing me that it is possible. Thank you for pushing me to keep going. Also thanks for the confidence/affirmation you give me in our sessions!

R.P., Los Angeles, California
Hi Alana, our session today was great and I'm excited for the future! Thank you for being available to guide me through my decisions. Sometimes it is just nice to have some confirmation and validation about my choices. I am so happy to have clarity for my future.

B.C., Australia
Alana, you told me this would work and it actually did. I met the girl of my dreams. Every single item is checked - I can't believe it. Also, I just signed a new contract for 5 years making $10 000 a month just like we worked on. Now I know the power I have in this universe.

K. T., Calgary, AB
Hello Alana, Friday's challenge is done and I am reporting back as per your instructions. It was interesting and enlightening! I feel no more negativity! Thank you! You are amazing!

E. M, Edmonton, Alberta
Thanks again for everything Alana. You have changed our lives and the weight has been lifted off my shoulders. You're an angel. You came into my life at just the right time. Also, I am so grateful for the business referral. He's my favorite client now haha.

P.L, Edmonton, Alberta
It was amazing! I was so thrilled at how that one session really made a difference for both of us. We both felt really happy and I can see how badly he wants to work on our relationship which is nice. You are brilliant and the perfect coach for us. You said just the right things and it was really eye opening. My fiance was really impressed he called his mom right away lol and they may do some coaching too!

I.H, Edmonton, Alberta
Thanks so much Alana. You inspired me and now I am so excited. I feel there is opportunity for me and I can't wait for it. I also have 3 new clients this week! You changed my thinking. I stopped allowing negative beliefs to control me. Thanks so much. I appreciate it a lot.

L.P, Entrepreneur, Edmonton, AB
Hi Alana, Hope you are well...I wanted to share some good news with you.. First, my work on ruminating and worrying is going really well...I am feeling much calmer and practicing the things we spoke about. The unwanted thoughts still come, but I am able to make peace with them and move on way more quickly..so thank you again for our help! Second, I got the job! It seems like a wonderful organization and the owners are lovely people who were excited to have me start...AND it ticks off every box on my career dream board I made. I remember you said that I once I put it out there and things will start to happen and they did! So I just wanted to say thank you so much...it was the work with you that allowed me to find this place and the timing was perfect...

R, H, Edmonton, AB
Last class with Alana was enjoyable it was like being at a TED Talk. I felt empowered, like I was able to assist with a client for positive changes. It was very relateable to ourselves and to the clinical setting. Maybe this technique is what was meant as the real life modification instead of the 2 mentioned in Health Foundations. A welcomed change from most classes this semester.

Student, Grant MacEwan University, Edmonton, AB
Amazing!! Helped me gain a new perspective on life as well as remove some very limiting beliefs. All the best athletes in the world have coaches to help build them up and make them better each and everyday. That is what Alana does on multiple levels. Thank you

D. A., Edmonton, AB
Alana truly is a excellent life coach. She has helped me with family and relationship issues as well as building on my spiritual awareness. I have experienced many positive improvements and feel happier, energized and excited about my life.

R.C., Edmonton, Alberta
Alana is an amazing life coach! I've had the pleasure of taking her sessions and it created awesome results in my life. I would recommend her to anyone. She has a warm and welcoming personality and is very professional. She is able to look at the big picture and is a very genuine woman. Thank you so much Alana!

S.G., Edmonton, AB
All I can say is wow! Getting the opportunity to work with Alana was exactly what I needed in this period of my life. Every session we had felt safe and productive. We spent our time together working on techniques and exercises I can use in my everyday life to help emit positivity, love, happiness, structure and many, many more. We are not born with the knowledge of the world. I am always looking for others out there who can teach me the wisdom to keep me going in a fun filling direction in life. After deciding to work with Alana I can say one thing for sure to anyone. We have built a very constructive relationship together that will benefit my life in the future in more ways then one. This was one of the best decisions of my life. Alana is an incredible person.

R. B, Edmonton, AB
I am getting happy, happier and .... To be continued Lol Tx u Alana You are amazing amazing

C.R., St. Albert, Alberta
Hi Alana, I think you are amazing and have a wonderful energy and a positive spirit. You are extremely knowledgeable and I really liked the alternative things you suggested. I loved how you were there for me when I was really anxious that day I called you. That was great knowing you were there for me. Most other practitioners would have told me to make an appointment. I felt empowered after each session, which was fantastic. I love your style of coaching and will be back to see you. Thank-you for everything Alana. You have a gift and I feel very fortunate to have met you.

B.A., Edmonton, Alberta
Thanks again for everything, Alana. I feel like you are holding my heart in your hands — carefully, kindly, reminding me that it's all ok. You are a true healer. I'm so very grateful for you.

S. Taylor, London, ON
Alana helped me tighten up and get direction in my life. I am organized now and actually like it. Everyone could benefit from what she has to offer. I liked having someone to talk to, bounce ideas off and get feedback from.

S. Zigart, Artist, Edmonton, AB
Since I started life coaching with Alana, I have gotten every single job I have estimated. I also notice a change in the way I am treated and viewed by my peers. People respect that I hired myself a coach. Alana can instill self confidence into a person even in one session. Even that makes it worth it. I really like the chart that Alana made for me. I keep them on my dashboard to look at every day. Thank you Alana.

B.G, Business Owner, Construction, Edmonton, Alberta
Hi Alana, I want to just say thank you for all you have given me and are giving me in terms of support, kindness, empathy, insight, and your perspective which feels genuinely clear and perceptive. You have a very light touch that feels knowing and wise. The softness of it sinks in as we speak and long after. I am so grateful.

S.C, Realtor, Seattle, Washington
Knowing Alana for more than a quarter century, I have always enjoyed her zest for life and the ability to create positives. I found her approach to all things, hard working, very organized, and you can depend on the outcome. To know her, is to love her.

Werner Linsenmeier, Middle Sackville, Nova Scotia.
Alana brought me into another level of self awareness and perspective. I am able to see myself from a different perspective which has made me more confident.

J.M, Intuitive Healer, Edmonton, AB
Alana is not only a Life Coach but an inspirational speaker. She has given talks to my Health Studies University classes about spirituality, knowing your true self and relational practice. She is very adept at structuring her lessons to address the determinant of health and speaking with young university students to realize their potential and that of their future patients.

Sharon Johnson, Instructor at Grant MacEwan University, Edmonton, AB