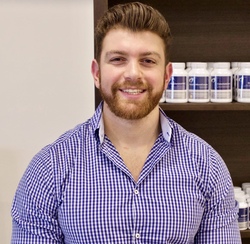 Alex Mailis

Vaughan, Ontario
Life Coach, Performance Coach, Health and Fitness Coach
BA, Chiropractor, Strength and Conditioning Coach
I help motivated individuals above 30 years old transition into a new chapter of their lives by optimizing their health, cultivating a positive mindset, and developing bulletproof confidence.
Details

Vaughan, Ontario L6A3Z3
4169083999
Send Message
Visit Website
Hourly Rate: $150 to $200 Canadian Dollars
Gender: Male
About Me
Has something happened to you recently or in the past year that has derailed you from progressing in areas of your life that are meaningful?
You may have tried various programs, talked to friends, even hired some help but still struggle with finding what your next move is, and the motivation to get you to where you would like to be.
Making positive changes in your life can be very tough. We all mean well but when we fall short of what we want, we can become easily discouraged and give up all together. Giving up means that we settle for mediocrity and deep down inside, we both know that you really don't want that.
As a Chiropractor and Certified Life Coach, I help my clients
optimize their health through great nutritional practices, customized exercise programming that works with their body, and accountability check points to make sure they continually progress towards their goals.
At our clinic, I primarily work with very complex patients so I've come to know how important it is to develop a strong and disciplined set of principles to produce incredible results. Throughout the process, developing a positive mindset is a key factor in sustaining results and living at a high level. My clients learn to believe in themselves and develop the confidence to make and sustain lasting change. If I can make substantial changes in my patients, I am certain that we can create some amazing results together.
If you are seriously ready to change your story and truly commit to a life that is nothing shy of amazing, I'd love to get to know you better and help you on your journey!
Reviews
3 reviews (5.0)
Before I met Alex, I had difficulty sticking to a routine. I had so many tasks to complete, and I always tried to get everything done at the same time. This method was not working for me. During the COVID-19 Lockdown, I stopped exercising, which caused me to gain some weight and not exercising affected my mental health. Since working with Alex, I learned that you cannot do everything at the same time and he helped me prioritize what is most important. When I take on tasks, I am more mindful of how much I can complete and I make sure to not over book myself. I also got back to training 3 days a week, and I have changed my perception of exercise. Exercise does not just help me lose weight and improve my physique, but also helps me manage the odd pains I have in my back and gives me a great sense of well-being. Even if I cant do a full workout, I always plan time to move and be active. Thank you, Alex!

Azhar
I just got out of a bad relationship before I started working with Alex. I was also trying to complete my Real Estate license and I had lots of difficulty focusing. My relationship with my parents and siblings was not that great and I struggled with confidence. I am so grateful that I met Alex as he was warm and really showed me that he cared. He helped me understand how to be nicer to myself and practice more self compassion. He helped me prioritize what is most important and helped me set a schedule so I could be successful. Every coaching session we had was amazing and sometimes I would come into the session not feeling the greatest, but after every session I felt invigorated and I was ready to push harder. We would set up weekly accountability check points and discuss my progress and I would regularly check in with him throughout the week and let him know about the work I was putting into my goals. Since working with Alex, I have learned to believe in myself and that anything is possible. Ive learned that attaining a career as a Realtor can truly happen and my success is in my control. I now put myself first, and am I am the happiest I have been in a long time. Thank you so much Alex!

Naif
I am very thankful to have crossed paths with Alex during an immensely challenging time in my life. I had been struggling with life-altering physical and emotional symptoms as well as limiting beliefs that were holding me back from recovering and living my best life. I was truly blessed to have been introduced to life coaching through Alex. Alex is an incredible coach. His warm energy, sincerity and devotion is very refreshing. Alex consistently creates a safe space during our sessions where I feel comfortable being vulnerable and expressing myself candidly. Alex is very compassionate and it is evident he deeply and genuinely cares about serving others. I truly believe this is his calling! I love the way he formulates his coaching sessions and fosters plenty of opportunities for revelations and aha moments. Alex has played a key role in my journey towards greater self-acceptance and compassion and I was shocked with the progress I was able to make in only a short period of time. Thank you Alex! You are a wonderful human being!

Olivia