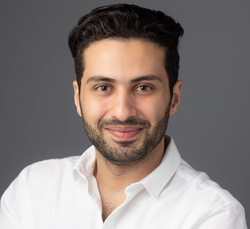 Alex Salem

Vancouver, British Columbia
Business Coach, Career Coach, Life Coach
B.E.
Coaching students, millennials seeking direction in their personal and professional lives, as well as empowering women through transition and change.
About Me
I am a professional coach and a transformation strategist. My purpose is to empower you to rise above your challenges with a solution-focused approach so you live a life of passion and meaning.
Solution-focused coaching is one of the most potent forms of coaching where client's focus shifts from problems to solutions. We live in a time where people are more resigned from their lives more than they have ever been. Because they focus on their challenges more than the solutions.
I have been gifted with the unique ability to see creative possibilities and to share tangible tools and information to help everyday people to change their lives for the better.
I am here to make your journey of transformation as smooth as possible by supporting you every step of the way. So, let's begin our journey together!
Reviews
3 reviews (5.0)
Alex is an extremely resourceful mentor, patient and also knowledgeable. Whenever I had a question about something, Alex always had an answer to my question, and a corresponding reference sheet for me to add to my inventory of resources! On the rare occasion that he didn't have an answer for me, he made sure that we found the answer together. Alex's guidance & support has been beyond any of my expectations. Even when I felt like I messed up and made a huge mistake, he always had a story for me. "You know what I did one time?" This always made me feel better about the situation and it reinforced my skills and knowledge. He boosted my confidence levels and made sure that I never doubted myself.

Rory Schmidt
Alex helps me visualize, embody and become the best version of myself. I feel stronger after a coaching session with him.

Marlene G
I was very fortunate to meet Alex and undergo his mentorship upon my return to Canada and re-entering the workforce. I have changed career fields and this transition into a new direction has been made less daunting under the guidance of Alex. Alex is very much solution focused which has allowed me to concentrate on end goals and not be intimidated by making mistakes along the way to meeting those goals. With a solution based approach Alex is able to apply psychology to give you the tools to become self- aware and self-sufficient, fueling confidence and motivation. Alex has a very methodical approach -you cannot help but be influenced by his confidence and patience, great models to emulate and internalize while you explore your own infinite potential…..

Scott Singh