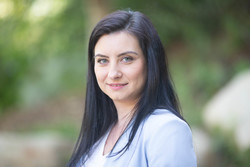 Alexandra Trusca

Los Angeles, California
Family Coach, Life Coach, Relationship Coach
Psychology, Psychodiagnosis and psychological Counseling, Personal Development Counselor
I coach women who want to live a fulfilled life on the other side of their limitations and insecurities. I use simple tools to help my clients become their best selves in all aspects of life.
About Me
I am Alexandra, a woman, a psychologist, & a women's empowerment life coach.
I love to work with women who want to live a better life on the other side of their limitations and insecurities. I use simple & practical tools to help my clients achieve their goals.
I don't believe there's an item of clothing that fits us all, as I know there's no food that fulfills all of us. That's why I create a personalized program for each of my clients, a made-to-measure coaching plan to fit their unique personalities. In our confidential meetings, my clients learn to accept their flaws & gain self-confidence to pass over the blocks on their avenue. I keep my clients accountable when they stall on taking action, but I am also their biggest cheerleader when they achieve a goal. I use empathy to understand my clients' needs & I support them or push them forward based on what suits them best.
As my clients' guide, I shine a light on their pathway to help them create easy to take steps to reach their full potential.
I know that all of us fight our own battles. In my practice, I've successfully helped women overcome panic attacks, anxiety, fears, phobias, low self-esteem, etc. I've been by my clients' side on their grief process or when they've changed their job. I helped women embark on new careers, or I've watched them fulfill their romantic life.
My mission is to empower women to live life to the fullest. I've supported my goal by becoming the best version of a life coach for my clients. I have a Bachelor's Degree in Psychology, a Master's Degree in Psychodiagnosis and Psychological Counseling in Romania, and an Accredited Personal Development Counselor Diploma. Also, I have completed a first-level certification at the Certified Life Coach Institute in California, where I became a Certified Life Coach.
I believe we only live once, but if we live to the fullest, once is enough! If you feel you don't live your life to the fullest, let's schedule a free call and see how I can help
Reviews
7 reviews (5.0)
I worked with Alexandra to be able to overcome the difficult moment in my life when i whanted to give up my business. I found the support i needed through terapy with her and she reminded me why i started this business and what my goal is. i will have no words to thank you, Alexandra, but i am not ready yet to give up therapy with you. So i look forward to seeing you soon!

Brandusa
A few years ago a moved to another country and even though it was only an hour flight from my home country, the transition took its toll on me. Even though I moved with my job and I really loved what I was doing, feeling lonely was such a big setback that I even thought about moving back to my old country. I needed to give it one more shot, so I started working with Alexandra and that changed everything. I learnt how strong I am and how many resources I have within myself and now, 2 years later I can call my adoptive country "home".

Giorgiana
1. I was looking for a way to gain more self confidence to quit my job and start a new business. I was afraid of failure and that kept me from becoming a better version of myself. A friend of mine recommended Alexandra and after working with her for a few months I feel a new person. I started my business and even though it's a constant work in progress, now I know I can do whatever I want.

Haba Monica
I worked with Alexandra to help me understand what I want and what I need from my partner in life. The experience was eye opening for me, it helped me find my clarity and find the answers to my questions.

Br.
I started working with Alexandra because I was looking for answers in my marriage.I didn't feel happy in my relationship, I was unhappy with how many chores Ihave while my husband had always time for himself.Alexandra helped me find clarity in what i want and with her i learned how to involve my husband more in our family chores and how to say no to things that i don't want to do, without feeling guilty.

LILI P
Before starting my coaching lessons with Alexandra I felt lost in my relantionship with my husband, but now I have more clarity in what I want from my husband, I know how to set boundaries and I have the key of saving my marriage.

Cosmina Truc
Alexandra is truly an amazing life coach! She is assisting me during a pivotal point in my life by helping me to remove blocks of fear and self-doubt so that I can embark on a second satisfying career. I was very insecure about going back into the workplace after almost 20 years of raising my children, but with her great listening skills, compassion, and subtle but powerful encouragement, I have begun taking steps toward fulfilling my professional goals and I feel empowered to succeed. Alexandra is a wonderful coach and I highly recommend her to anyone seeking a positive change in their life!

Paige Charles