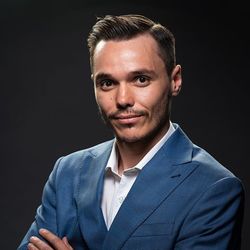 Alex Eftimie

Bucharest, Bucuresti
Life Coach, Business Coach, Entrepreneurship Coach
Are you an aspiring entrepreneur strugling to get clarity and don't know where to start in deliering better results? My BS free coaching will help you focus and get clarity and on the right track!
About Me
Are you an aspiring entrepreneur, strugling to put everything together and to start your entrepreneurial journey?
Do you often feel overwhelmed and oscillate from not knowing what to do and not knowing if what you're doing will work?
Are you having trouble finding the time to do everything you need to do?
My results based, concise and focused coaching style will allow you to focus on what really matters to you. You'll consciously shift perspectives back-and-forth from the small details to the big picture and get clarity on what you need to do. You'll also prioritize, delegate, automate and delete your own tasks.
--
I was Born and raised in Bucharest, Romania, except for vacations which I mostly spent with my only younger brother at our grandparents. Like many other Romanians from my generation.
Third generation into building and fixing things. One of my grandfathers was a house builder, the other one maintained the pumps and pipes of the village water source. And my father is a plumber and electrician.
I loosely continued the family business so to say, as in I spent the first 15 years of my career building websites and apps which are a different kind of house and also at the same time in internet networking which is just a massive collection of pipes
In 2018 I slowly and steadily aka kicking and screaming started to distance myself from IT. Made some money on an exit. And was on the lookout for the next big thing.
And in 2019 I finished the Metasysteme Coaching School for Managers and Leaders and started to practice coaching as a way to change paths from IT and I humorously discovered that coaching is a lot like building houses in your mind and tending to pumps and pipes in your thoughts and feelings which is basically just a fancier version of what I did in IT.
Right now I am a Coach, a Manager and a Teacher juggling a few businesses of my own. And I spend most of my time finding creative ways to help all my clients achieve their desired outcomes
Reviews
2 reviews (5.0)
A powerful, positive experience! Quality coaching results in quality and transformative outcomes. This is what happend to me during these coaching sessions, where I discovered how to turn my life around, by feeling more motivated than ever to achieve my goals. As I started implementing healthy and positive habits, I learned to become the best version of my self day by day. Succesfully regulated my sleep patterns, I started to exercise daily and to eat more healthy. These are just a few of the good habits I impelemnted thanks to Alex's coaching sessions with me. I also started putting more things in perspective when a challenging situation ocurres and learned to think ouside the box. Great experience, will repeat for sure.

Razy B
Narcisa