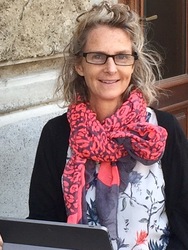 Ali Boyer

Wolfville, Nova Scotia
Life Coach, Career Coach, Retirement Coach
CPCC
Is life feeling difficult or stuck? 'Are you saying " Something's got to change?" I can definitely help. I help courageous people looking to grow their confidence and clarity about ways forward.
About Me
We all need help when life gets overwhelming. Is this you? You are a smart courageous person, but lately life seems difficult or a slog. Are you looking for more spark? You have lived through some bumps and transitions along the way and are feeling something has to change. You feel stuck and do not see any options. You long for something ,but may not be sure what it is.
You are NOT alone. Work with me and I will help you to find your own clarity about your unique way forward. You will be supported, championed and challenged to do more than you dreamed possible.
Join in my 5 Step Program to gain a deep vision of :
* blocks to your progress
* what's most important to you
* best career fit
* your own brilliance and confidence
* work/life balance
* passion for life
* ways forward
* self care
* options
I am a professional fulfillment coach (CPCC and ACC) with 25+ years experience in international education. My clients are my inspiration. Call me today for a free no obligation consultation. You will be amazed at how through coaching you will experience transformative change.Your brilliant life is waiting for you!
Reviews
2 reviews (5.0)
Ali Boyer of Golden Leaf Coaching really helped me discover how to do well in school and in life here in Canada. As an international student, there are many differences and it is very confusing. I am so happy to find Golden Leaf Coaching!

Chen Li, Hangzhou, China
Ali has been coaching me for almost two years. She has always been caring, encouraging and professional. Ali's coaching makes me more confident and strong. It offers me new thinking patterns and perspectives. I love Ali as my coach.

Fiona Sun, Office Employee, Kingston, Ontario