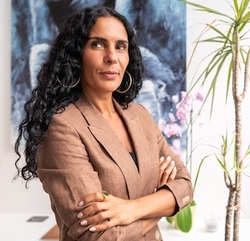 Aline Badr

Barcelona, Catalonia
Leadership Coach, Executive Coach, Business Coach
ACC, CPCC
I help people amplify their influence & impact. How? 1) Identify limiting beliefs 2) Remove blind spots 3) Increase self-awareness 5) Make conscious decisions 6) Translate authenticity into influence.
About Me
Great leaders become great because they lead themselves first. They observe their thoughts, examine their beliefs, identify their values. They analyze their impact on others. They remove their blind spots. They gradually make the unconscious conscious to make better informed decisions and amplify their personal and professional impact.
I have been advising and coaching successful leaders for over ten years and I can tell you their secret. It is active self-awareness. Self-awareness aligns who they are with what they do and it arms them with the clarity and focus to make the right choices for their careers and their lives.
Who I am can be summed up like this: I've never fit in, not in a single company I joined. But that hasn't stopped me from accomplishing great things in my career and my life. And I'll happily tell you about them when you ask.
Reviews
8 reviews (5.0)
I thought I had chosen my coach until my last interview with Aline. I knew instantly that she was the one. Ive done allot of personal work over the decades and needed someone who was high caliber! She has not disappointed. She is calm, direct, engaged and has the uncanny ability to weave an amazing coaching session every time. I have gained insight, wisdom and happiness. Thank you Aline.

Maggie Anderson, Entrepreneur
Aline is an excellent coach with a positive mindset and an enthusiasm for client's growth. I would highly recommend this coach for anyone that wants to improve their lives and fulfil their potential/purpose.

Matjaz K.
Hi, I had the pleasure to work with Aline Badr and to be honest she's the BEST coach ever!! She helped me find my life purpose with her creative exercices and very unique way of seeing things. I will recommend her to anyone who really wants to change their lives! Thank you again Aline for your help! ;-)

Adrian Vazquez
Aline is the best companion you could wish for in your journey to your best self. She is so thoughtful and compassionate, she guides you through to your own power to tap into your intuition and create the life you truly desire.

Lucy
I'm used to helping others, so when it comes to doing my own work, I'm not the easiest person to coach. Aline rose to the challenge with her professional, authentic, and skilled approach. I was spinning my wheels and was avoiding pushing myself in the direction I knew I wanted to go. Aline held space for me to explore and go deeper into identifying my values and to create the vision that I needed to move forward. With Aline's gentle but firm approach, I was able to focus in on what was holding me back and also deepen my commitment to where I am going. She truly listened to what I was saying and was then able to simplify my scattered thoughts into succinct and clear ideas. Through her encouragement and guidance, I was able to connect with my inner peace and strength. Working with Aline is a positive, energizing, and worthwhile experience.

Francine G.
Anytime I feel unsure about a decision I call Aline. I trusted her almost immediately. She is naturally caring, engaging and to be honest I don't think I've ever been listened to the way she listens to me. It feels like she's in there with me digging through my thoughts to find the clarity I need. A true partner. Thank you Aline!

Sean
I am an entirely different leader since being coached by Aline. I feel free to be myself in my business and this has impacted my relationships in such a great way. Not to mention it created space to operate the business differently, no bullshit, more impact. Thank you, Aline!

Luke
Aline asked me the questions I've never dared ask myself. And it's exactly what I needed to see things clearly, like who I want to be in this world and the impact I want to have. I thought I wanted a coach to get advice on my career, instead I found a connection to myself, an anchor that now guides all my decisions. I am so grateful for Aline.

Sara