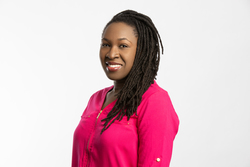 Alisia Young

Pickering, Ontario
Life Coach, Performance Coach, Health and Fitness Coach
Certified Coach, Doctor of Naturopathy Degree, Author, EFFIC Certified, Healthy Eating & Weight Loss Coach, Eating Disorder Recovery Coach
I coach high-achievers to clarify their life & health visions and take care of themselves. I help my clients organize their lives and prioritize key actions to sustainably perform at a higher level.
About Me
Are you feeling stuck and overwhelmed? Having difficulty focusing and following through?
Are you a high-achiever & hard worker, yet feel like you're spinning your wheels? Frustrated by analysis paralysis and self-sabotage? Feeling lost in life and that you should be further ahead?
Are you absolutely aware of how you're spending your precious time, and if it is being used most effectively (ie. maximizing your flow state and respecting your zones of genius)?
To add, do you have a clear vision about what you're working towards? And why?
Alisia would love to help!
As the creator of Eat 'N' Live Free, Alisia gets to know you for the unique individual you are, and partners with you to clarify your vision and goals, and align with your values while determining high-impact actions to achieve them. Accountability and communication is key throughout process - you will feel supported and encouraged through the ups and downs of change.
Through her online educational programs and virtual 1-on-1 coaching, Alisia supports you in the following areas:
Productivity & Performance
Healthy Living & Weight Loss
Strictly Accountability
She provides you with structure to maintain your focus and productivity, which allows you to sustainably perform at a high level.
Her diverse background and 10+ years of experience in fitness, nutrition, health, education, business, and finance gives her a unique perspective while coaching you to achieve your goals.
When working with Alisia, you'll feel heard, understood, and can rest assured that metrics will be involved to ensure you're on track.
Feel free to check out Alisia's educational content on her Youtube channel "Eat 'N' Live Free," and her podcast "Teach Me Freedom." You can also learn more about her personal experience of dealing with being an overachiever in her book "Congrats Superwoman: When You've Climbed the Mountain and Still Don't Feel Good Enough" which can be found on Amazon.
Reviews
3 reviews (5.0)
Working with Alisia was absolutely amazing. I appreciated that she understood and respected me and my goals. We worked together for twelve weeks, and it was one of the best investments I have ever made for my own personal growth. I am a starting coach/podcaster who was looking for help both professionally and personally. I needed help getting myself set up for weight loss, and she helped me get back on track in my eating and exercising habits. She also was very helpful in helping me clarify my professional goals and in taking real action steps towards achieving them. I especially appreciated Alisia's excellent listening skills and sometimes bold (needed) questions in keeping me accountable. It was also so good to have someone who shared my faith and prayed for me every session. I highly recommend Alisia as a coach. She is very encouraging and also very practical in helping shape dreams into reality. I really believe God brought us together and am grateful to Him for leading me to her. Thanks, Alisia!

Sharilee
A big thanks for you Alisia! before we met it was hard for me to keep myself motivated. Every session with Alisia gave me a sense of safety and freedom to continue and grow my coaching programs. We set a few goals and adjusted them on the way to match me these days. I'm growing from being a life and business coach to an optimal living platform as I always wanted! So much that I co-created to serve others from Alisia's gracious support and coaching

Hagar Kotzin
I had the amazing opportunity of being one of Alisia's first clients. It was comforting at how quickly i was made to feel comfortable and how easy it was to share openly and honestly. Alisia as the ability to ask powerful and deep questions that get you thinking and hopeful that I can get through this. Here confidence in her abilities shines through. My experience with Alisia was transformative as I felt very safe which made it easy to feel vulnerable and open. I was able to share anything with absolute confidence which made it easy to have difficult conversation. Alisia is truly gifted coach and individual and I can not wait to see how she does moving forward!!!

Chip