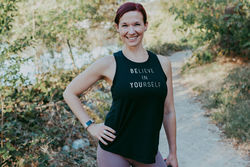 Alison Evans

Sacramento, California
Health and Fitness Coach, Life Coach
NASM Certified Personal Trainer, IAPRC Coaching Program Certification
Do you struggle with sticking to healthy habits and fitness? Do you feel you drink more than you'd like? My coaching supports women who are sober curious and/or seeking a healthy, balanced lifestyle.
About Me
Living an alcohol-free lifestyle is full of many gifts and surprises. You'll build strength inside-and-out, and you'll find serenity where you never knew it existed- right inside of you!
My goal as a Health and Fitness Coach, as well as Life Coach, is to help you tap into those inner and outer strengths. You'll receive my personal support in living a alcohol-free lifestyle, as well as guidance on how to create a healthy lifestyle you love!
The foundation of this mission was built when I decided to start living life on my terms rather than on the terms of another wine bottle. Since that day in January 2017, I've left my career as a school counselor and completed a Masters of Science in Exercise Science with a focus in Wellness and Fitness. I have also been certified as a NASM Certified Personal Trainer and IAPRC CPC Life and Recovery Coach. I am also a SHE RECOVERS® Coach, which means I am trained in and my work aligns with the SHE RECOVERS® Intentions and Guiding Principles .
Supporting and serving others is without a doubt my passion and gift to give. Together we can create a "Teetotally Fit" life you LOVE! :)
Reviews
4 reviews (5.0)
"It's taken me awhile to write this testimonial because it's kind of hard to put into words Alison's impact on my fitness journey. Alison has truly been the one person who has made me discover that exercise is something I can not only do regularly but love doing! It was invaluable to have someone with her level of knowledge listen to my goals and fears and put together a custom fitness plan I actually wanted to follow. Alison's truly an encourager by nature and it's beyond obvious she genuinely cares about not just her client's "fitness success" but the way they feel interacting with the journey. I can honestly say that I would not be where I am in my fitness journey without Alison. She understands the ebb and flow of life and how it impacts staying active in a way that brings 100% understanding- never judgment or shame. She's just the best- full stop."

KatieLea C., Atlanta, GA
Alison was great to work with. She made working out doable. Highly recommend working with her.

Lara L., Portland, OR
Absolutely love Teetotally Fit! A program was created that suited my lifestyle and lower back problems, which was quick yet challenging, so easy to fit into my busy day of working and having three kids. Even though I am based in New Zealand, the time difference was no problem! Highly recommend to others A+++++++++

Anna C., New Zealand
We have only spoken on the phone but she is very professional and she really wants to help people.

Trish L., Lincoln, CA